Rotary blasthole drill rigs
DR410i
Hole diameter

152.00 - 251.00 mm (6.00 - 9.88 in.)

Weight on bit

Up to 258 kN (58,000 lbf)

Single pass hole depth

Up to 14.00 m (46.00 ft)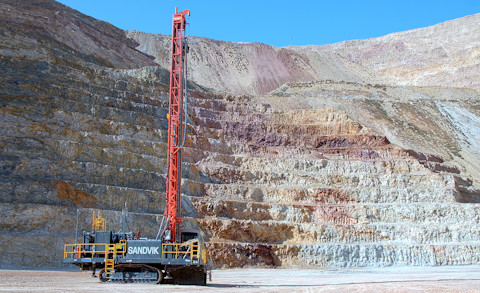 Sandvik DR410i is a diesel-powered, self-propelled, crawler-mounted blasthole drill, ideal for surface mining. Sandvik Intelligent Control System Architecture (SICA) gives operators real-time system diagnostics to monitor the equipment's health and performance.
14 m (46 ft) extended mast

The 14 m (46 ft) extended mast option delivers a total depth capacity of 32.3 m (106 ft), eliminating the need to add pipe. As a result, you improve productivity and reduce costs.

Centralized service center

A single, centralized service center reduces the time for fluid fills, improving utilization and decreasing the chance of fluid spills and negative environmental impact.

Two-stage rotary head

The redesigned two-stage rotary head allows for extended fluid and component life. It provides faster and safer replacements, reducing maintenance intervals and limiting the risk of potential injury.
Product specifications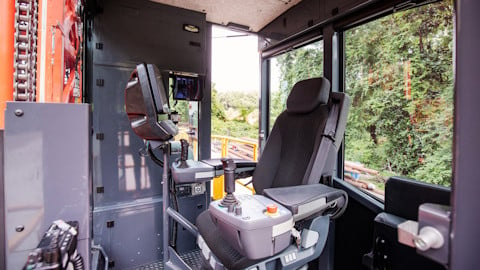 Learn more about DR410i features

Designed with safety in mind

Meets worldwide standards including Mining Design Guidelines (MDG) for mobile and transportable equipment in mines, Earth Moving Equipment Safety Round Table (EMESRT) design philosophies, ISO 3449 Level II and CE conformity marking.

Eliminates manual bit handling (option)

Operators can handle pipes from inside the cab using Sandvik's carousel and breakout system, which features an optional hands-free bit changing capability, further improving safety.

Compressor management

Advanced compressor management reduces the load by controlling air volume to maximize efficiency and reduce fuel burn, decreasing your carbon footprint and extending engine and compressor life.

Precision-drilled holes

The scalable iDrill automation platform unlocks automation options and digital services to provide clean, precision-drilled holes, maximizing fragmentation and asset utilization.

Enhanced accessibility

(option)

Ensure safety during inspection and maintenance with a dedicated ladder that provides easy access to mast components. Fiberglass Reinforced Plastic grating mast infill and certified tie-off points address working-at-height concerns, while the optional hydraulic main-access stairway facilitates stepping on and off the drill.

Operator comfort and control

Operators receive an unobstructed view of the drill table from a raised, swivel-enabled chair with integrated touchscreens and keypads. Large, angled windows reduce glare and a safari-style roof keeps the cab cooler.
Automation
Improve efficiency, profiltability and operator safety
Software systems that help you monitor your machines, giving you a full overview of your fleet and enabling you to control and optimize your operations.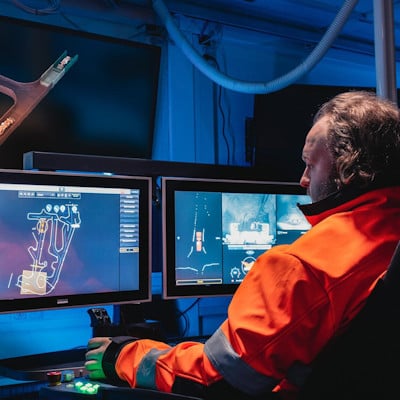 Can't find the answer to your questions?
Are you looking for a spare part or component?
Looking for technical specifications?