Automation
Sandvik mining automation and teleoperation systems enable machine monitoring and provide a full fleet overview. These software systems control and optimize operations, enhancing productivity and safety while reducing total ownership costs. They're available across various Sandvik products for both underground and surface mining applications.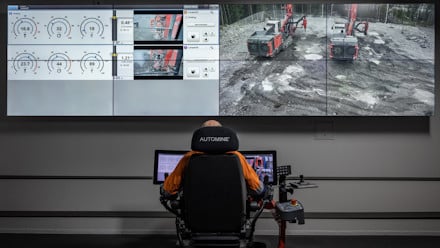 The AutoMine® product group offers autonomous and remotely operated mobile equipment. It allows operators to simultaneously control and monitor multiple underground and surface machine operations in the comfort and safety of a remote control room. With AutoMine®, customers can scale automation at their own pace.
AutoMine®
OptiMine® Mining Data Platform (MDP) enables real-time monitoring of machines, workers, equipment and material underground to improve safety and productivity at mine sites. It is the first AI-powered data aggregation platform and enables your mine to connect all IoT devices into a single data repository. ​
OptiMine®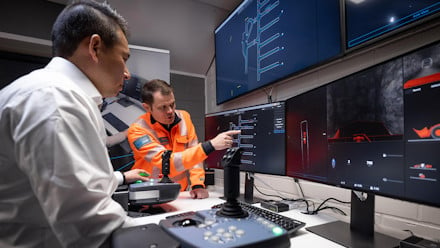 Automation Learning Solutions
Sandvik Automation Learning Solutions is a complete training package which covers all aspects of AutoMine® remote and autonomous operations. The program delivers high-quality training anywhere in the world, with both virtual and in-person teaching methods available.
Automation Learning Solutions
Improved safety standards

Automated mining equipment provides a safe and controlled environment for operators both on the surface and underground. It offers significant safety benefits by removing personnel from hazardous areas.
Need some help?
Talk to our experts about how we can help you today