Rotary blasthole drill rigs
D245X
Hole diameter

127.00 - 203.00 mm (5.00 - 8.00 in.)

Weight on bit

Up to 209 kN (47,000 lbf)

Single pass hole depth

Up to 8.66 m (28.50 ft)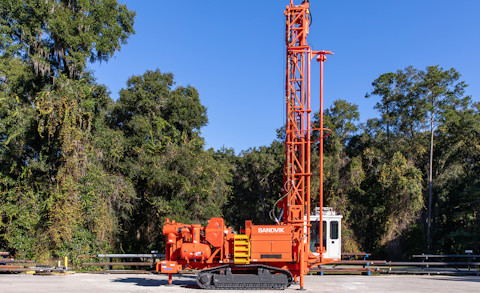 Sandvik D245X is a diesel-powered, self-propelled drill engineered for use in large quarries and metal mines that employ low-pressure rotary drilling. Its easy transportation makes it well suited to mining contractors.
Advanced features

D245KX features a health monitoring system, 7-inch mobile-grade touchscreen, enhanced control system and electronically controlled compressor system, improving operator productivity and overall drilling performance.

Easy maintenance service deck

The well-designed, open work deck and in-line engine design provide quick access for servicing, keeping operations up and running for longer periods.

Reimagined operator cabin

The large-windowed ergonomic cabin offers improved visibility of the operating environment and features integrated electrohydraulic controls that simplify operation. ISO symbol decals on all cab controls, standard LED exterior lights, and dual-channel emergency stops enhance operator safety.
Product specifications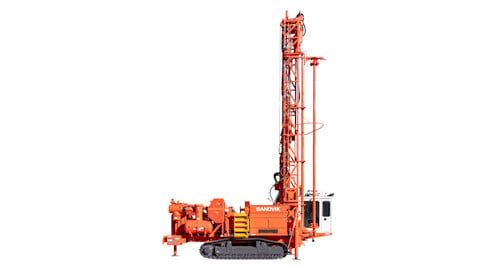 Learn more about D245X features

Geared for versatile performance

The structurally sound undercarriage, combined with heavy-duty frames and pull-down chains, allows for easy maneuverability over rugged mining terrains. The angle drilling option drives performance with a variety of applications. The rig mast can also be set in 5° increments, from 0 to 30°.

High-powered, sustainable

rotary drilling

The engine and compressor allow for optimized hole flushing and powerful rotary drilling. Operating at lower speeds and load factors ensures longevity. Additional features like load sensing and fan speed control aid performance.

Accelerated drill pipe handling and tram speeds

Improved pipe handling and faster tram speeds contribute to shorter cycle times and more holes drilled, enhancing productivity.

Powerful drilling that meets emissions requirements

A compact and stable drilling platform available with a tier 4 engine to meet emissions requirements.
Automation
Improve efficiency, profiltability and operator safety
Software systems that help you monitor your machines, giving you a full overview of your fleet and enabling you to control and optimize your operations.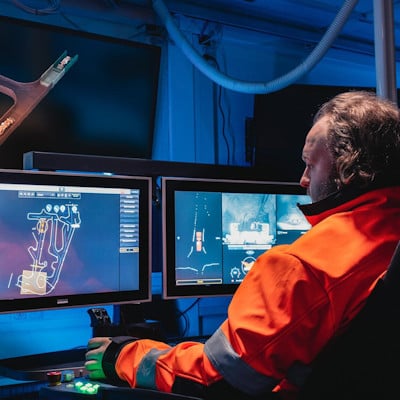 Can't find the answer to your questions?
Are you looking for a spare part or component?
Looking for technical specifications?