Top hammer rock drills
RD1840C
Hole size

140 - 178 mm (6 - 7 )

Percussion power

49 kW

Percussion rate

39 Hz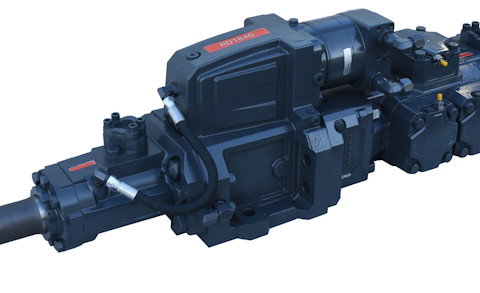 Sandvik RD1840C is a hydraulic rock drill designed for surface longhole drilling of 140 - 178 mm hole sizes. Its robust design and long piston percussion package are made for demanding conditions.
Long piston technology

Long piston technology generates high-impact energy with optimum pulse form, achieving high efficiency while maintaining the tool's service life.

High drilling performance

RD1840C's innovative design includes a stabilizer, which effectively controls the contact between the drill bit and rock surface, ensuring optimal drilling performance while contributing to the drill's longevity.

Larger hole size

Benefit from higher penetration rates and improved hole quality, maximizing productivity and enhancing your operation's performance.
Product specifications
Learn more about RD1840C features

Real-time stress monitoring (option)

RD1840C is available with Sandvik RockPulse™ tool stress monitoring system, which feeds back real-time measurement data to your drill operator on three key drilling parameters: drill bit response, tools load and feed level. By measuring the stress impact, RockPulse™ guides the operator to the right drilling parameters for optimum rock contact and performance.
Can't find the answer to your questions?
Are you looking for a spare part or component?
Looking for technical specifications?