Top hammer rock drills
RD925
Hole size

89 - 127 mm

Percussion power

25 kW

Percussion rate

69 Hz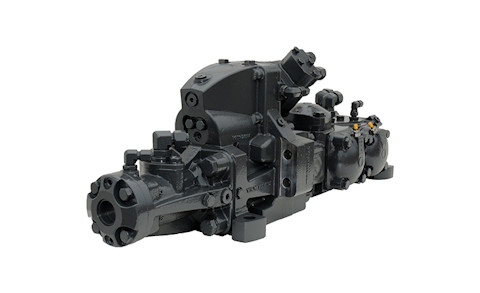 Sandvik RD925, part of the RD900 series, is a hydraulic top hammer rock drill designed for surface top hammer rigs and features few moving parts to ensure durability and minimize service time.
Three body modules

RD925 has three body modules connected by short side bolts, minimizing the number of joint faces and large contact surfaces. Its percussion module comprises two moving parts: a piston and its distributor sleeve, guided by a single pilot cylinder for precise part alignment.

Robust stabilizer

The stabilizer maintains the shank adapter's position on the piston, ensuring effective rock/bit contact and energy transfer, leading to improved penetration rates and extended rock tool service life.

Heavy-duty rock drill

Designed for surface top hammer rigs, this heavy-duty hydraulic rock drill can drill holes up to 29 meters deep using T51 MF-rods, with an optimal hole range of 89 to 102 mm.
Product specifications
Learn more about RD925 features

Multiple rotation motor variants

Three rotation motor variants are available to meet the RPM and rotation torque requirements in the RD925 application range.

Power extractor

The drill's power extractor (optional) allows operators to manually or automatically open rock tool joints when utilizing one-hole automation.

Reduced shank lubrication oil consumption

Optional Circulating Shank Lubrication (CSL) system significantly reduces shank lubrication oil consumption by up to 300g per hour.
Can't find the answer to your questions?
Are you looking for a spare part or component?
Looking for technical specifications?