Surface top hammer drill rigs
Ranger™ DX810i
Hole diameter

64.0 - 127.0 mm (2.5 - 5.0 in.)

Rock drill/DTH hammer

21 - 25 kW

Flushing air capacity

8.5 m³/min up to 10 bar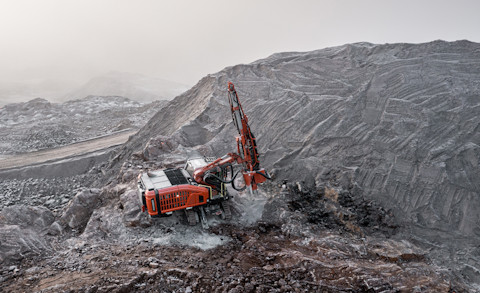 Ranger™ DX810i is a hydraulic, self-contained, crawler-based surface drilling rig. The rig features Sandvik intelligence options, powerful RD900 rock drills, reliable rock tools and an optimized drilling system with a drilling coverage of 290°.
290° Reach

Ranger™ DX810i is designed with a revolving superstructure that provides 290° reach. Achieve 55 square meters of drilling coverage and increase productivity by reducing the time spent repositioning your rig.

Variety of rock drills and applications

Ranger™ DX810i has a selection of rock drills from the powerful RD900 rock drill family (21 kW - 25 kW), making the drill rig suitable for several applications, like road cutting, pipeline drilling, foundation drilling and production drilling in medium size quarries.

Comfortable iCab cabin

Operators experience a noise level of 73.5 dB in the comfortable iCab cabin.
Product specifications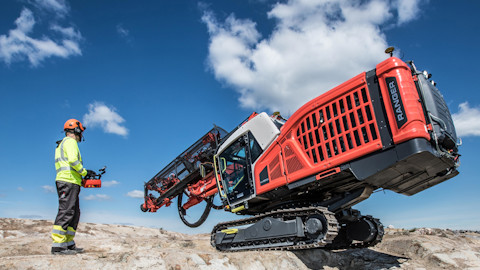 Learn more about Ranger™ DX810i features

Achieve higher performance and drilling productivity

Enhance drilling productivity with My Sandvik Productivity or My Sandvik Onsite fleet performance monitoring and optimizing systems. View fleet performance, equipment health and utilization in one place, ensuring optimal efficiency and performance.

Powerful advanced features

Harness intelligent features and advanced options, including innovative iTorque control system, precise hole-to-hole navigation, one-hole automation and TIM3D technology.

Optimize penetration rates with Sandvik rock tools

Boost drilling efficiency with curved thread Sandvik CT55 rock tools and achieve up to 20% higher penetration.
Can't find the answer to your questions?
Are you looking for a spare part or component?
Looking for technical specifications?