Surface top hammer drill rigs
Ranger™ DX800
Hole diameter

76.0 - 127.0 mm (3.0 - 5.0 in.)

Rock drill/DTH hammer

21 - 23 kW

Flushing air capacity

8.1 m³/min up to 10 bar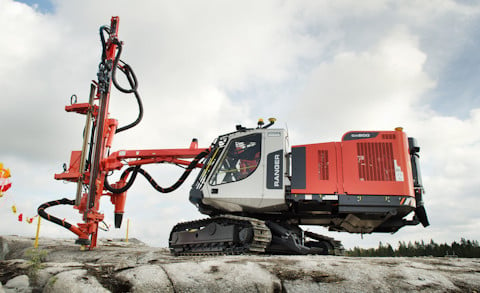 Ranger™ DX800 is a hydraulic, diesel-powered, self-propelled top hammer drill rig with an ergonomic cabin and rod handling system. Typical applications are road cutting, pipeline drilling, foundation drilling and production drilling in medium size quarries and open pit mines.
Revolving superstructure

Ranger™ DX800's design includes a revolving superstructure that provides extensive drilling coverage of 17.6 m² (optionally 26.4 m²)

Rock Pilot+ drilling control system

Maintain smooth rotation, solid rock contact, straight holes and fast penetration in different rock conditions with Rock Pilot+ drilling control system.

Excellent stability

Ranger™ DX800 ensures stability thanks to its counterweight solution, which allows for steady operation in the toughest conditions.
Product specifications
Learn more about Ranger™ DX800 features
Optional rock drill
The optional high frequency HF820T rock drill offers high penetration rates for boosted performance.
Operator safety and experience
Ranger™ DX800 features an ergonomic, high-visibility, ROPS and FOPS-certified cabin and a rod handling system, prioritizing operator safety and experience.
Reduce dust
High suction capacity dust collectors keep equipment cleaner, meaning less maintenance-caused downtime.
Can't find the answer to your questions?
Are you looking for a spare part or component?
Looking for technical specifications?