Surface top hammer drill rigs
Commando™ DC130Ri
Hole diameter

22.0 - 45.0 mm (0.9 - 1.8 in.)

Rock drill/DTH hammer

6 kW

Flushing air capacity

1.2 m³/min up to 8 bar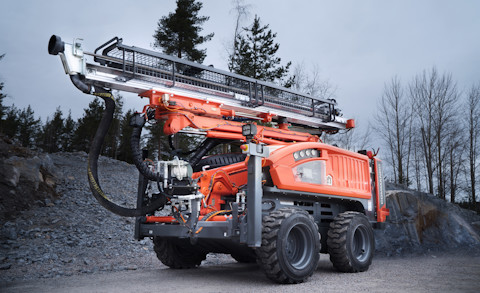 Commando™ DC130Ri is a fully remote-controlled, rubber-tired top hammer drill rig designed for road construction, demolition works and other applications. Upgraded features make this a versatile, productive machine with exceptional mobility and intelligence.
Compact size and good maneuverability

Thanks to its compact size, the rig is highly mobile and balanced, featuring high-torque tramming motors, skid steering and an optimized center of gravity. It is lightweight for easy transportation and its modular design ensures easy maintenance.

Optimized performance and fuel efficiency

The drill rig's high performance is based on an efficient RD106 rock drill and the machine's large drilling coverage area. The intelligent control system and large onboard touch screen offer control features typically found on larger drill rigs. The intelligent engine control optimizes engine power for fuel efficiency.

Adds flexibility for more applications

Experience a new level of versatility with the roll-over functionality for the feed, and the ability to change rock drill steels and adjust the drill to challenging conditions. Low noise and dust levels make it perfect for urban areas and the rig is easily adaptable to secondary breaking, foundation drilling, trenching, shaft sinking and dimensional stone quarrying
Product specifications
Can't find the answer to your questions?
Are you looking for a spare part or component?
Looking for technical specifications?