Surface top hammer drill rigs
Dino™ DC410Ri
Hole diameter

51.0 - 76.0 mm (2.0 - 3.0 in.)

Rock drill/DTH hammer

14 kW

Flushing air capacity

3.5 m³/min up to 8 bar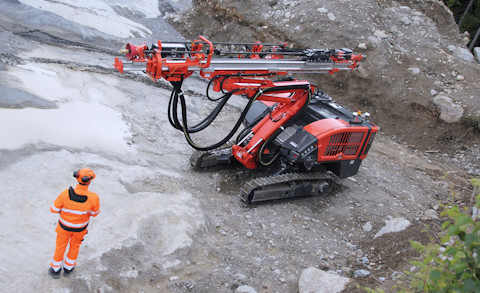 Dino™ DC410Ri is a versatile top hammer drill rig designed for easy maneuverability in the toughest terrain. It's ideal for construction contractors, cramped conditions, quarries and demanding municipal infrastructure projects.
Productive solution for demanding jobs

Full radio remote control, 14 kW RD414 rock drill, advanced i-series torque control system and an area coverage of up to 18 square meters (193 sq ft) make Dino™ DC410Ri a cost-effective option for challenging projects.

Easy maneuverability

With high tramming power, precise remote control unit and lower center of gravity, Dino™ DC410Ri provides advanced mobility and efficiency no matter the terrain.

Compact dimensions

Dino™ DC410Ri has a robust design with small transportation dimensions, making it well-suited to challenging, rugged environments.
Product specifications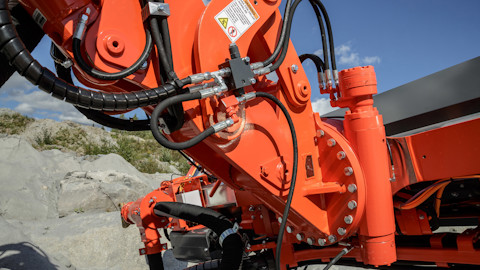 Learn more about Dino™ DC410Ri features

Collaring guide

Experience increased stability, accuracy, high-quality holes and more drilling hours from a single setup thanks to the extensive boom with patented collaring guide.

Make maintenance a breeze

Ground-level service points and transportability contribute to straightforward maintenance, making your work more efficient.

Noise reduction option

NoiseShield-DC offers up to a −7.5 dB reduction in A-weighted sound pressure by directing the drilling noise upwards, away from the operator and surrounding areas.

C

ustomizations for various applications

Achieve minimal set-up times by selecting the feed auto-aligning option, which maintains the feed beam's alignment at the preset angle even if the boom position changes between holes. Water flushing is useful for applications requiring optimal dust suppression, like tunneling jobs.
Can't find the answer to your questions?
Are you looking for a spare part or component?
Looking for technical specifications?