Surface top hammer drill rigs
Ranger™ DX700
Hole diameter

76.0 - 115.0 mm (3.0 - 4.5 in.)

Rock drill/DTH hammer

20 kW

Flushing air capacity

8.1 m³/min up to 10 bar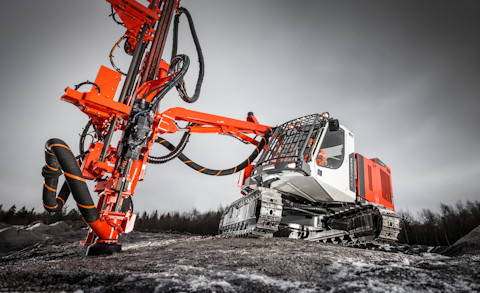 Ranger™ DX700 is a hydraulic, self-propelled, self-contained and crawler-based surface rig with an ergonomic, high-visibility cabin and rod handling system. Typical applications are road cutting, pipeline drilling, foundation drilling and production drilling in medium size quarries.
Revolving superstructure

Ranger™ DX700's design includes a revolving superstructure that provides extensive drilling coverage of 17.6 m² (optionally 26.4 m²)

Ensure straight holes and efficient penetration

Rock Pilot+ drilling control system allows for smooth rotation, solid rock contact, straight holes and fast penetration in different rock conditions.

Increased stability and comfort

Ranger™ DX700 has been designed to maintain stability in even the toughest conditions and prioritize operator safety, with a ROPS and FOPS-certified cabin.
Product specifications
Learn more about Ranger™ DX700 features

Operator safety and experience

Ranger™ DX600 features an ergonomic, high-visibility cabin and a rod handling system, prioritizing operator safety and experience.

Reduce dust

High suction capacity dust collectors keep equipment cleaner, meaning less maintenance-caused downtime.
Can't find the answer to your questions?
Are you looking for a spare part or component?
Looking for technical specifications?