Surface top hammer drill rigs
Dino™ DC420Ri
Hole diameter

51.0 - 76.0 mm (2.0 - 3.0 in.)

Rock drill/DTH hammer

14 kW

Flushing air capacity

3.5 m³/min up to 8 bar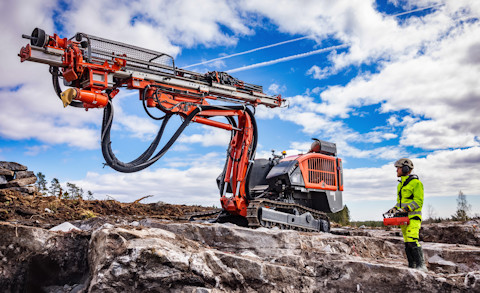 A remotely radio-controlled hydraulic, crawler-based surface drilling unit, Dino™ DC420Ri is designed for drilling 51 to 76 mm (2 to 3 in.) hole sizes. It provides excellent mobility and stability for urban construction sites, quarries and infrastructure applications.
Wide carrier design

This surface drilling unit features a wider carrier and a rigid boom with a patented collaring guide, for maximum stability and more drilling hours from one setup. Its powerful tracks offer great tramming power.

Intelligent control system

The intelligent control system features an onboard touchscreen display for easy scanning and tracking of operations. Operators view diagnostics and machine adjustment functions in one place, enabling better monitoring and control.

Carousel cassette for 3 rods

A coverage area of 18 square meters makes Dino™ DC420Ri a cost-effective and productive solution for demanding jobs. The optional carousel cassette enables continuous drilling up to 14 meters, achieving deeper holes.
Product specifications
Learn more about Dino™ DC420Ri features
Reduced fuel consumption
The Stage V diesel engine features the latest fuel-saving systems to cut down on fuel consumption.
Accessible

maintenance
All of the rig's daily service points are at ground level, allowing for unobstructed servicing and maintenance.
Easy to transport
Small transportation dimensions and compact size make this rig especially easy to move from site to site.
Can't find the answer to your questions?
Are you looking for a spare part or component?
Looking for technical specifications?