Automation
AutoMine® Line of Sight (Basic Remote) for Boom and Rotary Drills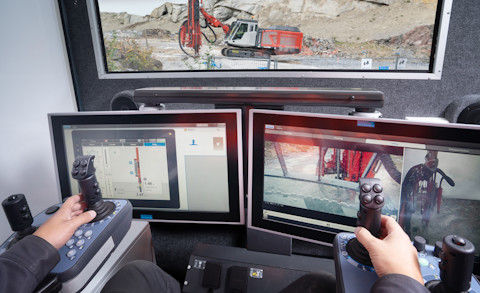 AutoMine® Line-of-Sight package is the first of three levels of autonomous surface drilling feature packages. This package is best for line-of-sight operation. It enables one operator to control one to three rigs with a remote operator station located at the bench when frequent access to drilling area is required in the operation. It is designed for ease of use and fast start up for mining conditions.
Operator safety and comfort

Working from a remote station or alternatively trailer or van, the operator can operate multiple drill rigs safely and comfortably. AutoMine® Line-of-Sight reduces operator's exposure to noise, dust and vibration, and the hazard of working close to high walls. The solution improves the working conditions and the immediate safety of the operator and mine personnel.

Reduced equipment damage

AutoMine® Line-of-Sight reduces equipment damage and lowers maintenance costs due to less wear and tear with automated functions. The operator can easily monitor the fleet's work progress via one view and get notified if actions are required.

Continuous operations

The system provides continuous drilling over shift changes and breaks, maximizing productivity even in difficult conditions. Consistent output increases efficiency with accurate drilling performance for easier blasting and improved fragmentation.
Learn more about AutoMine® Surface drilling - Line-of-sight (Basic Remote) features

Enhanced productivity

Onboard cameras, an audio system and a line-of-sight or area surveillance camera system enable productive work to be carried out in all conditions.

Seamless operating environment

The system is designed to be user-friendly and quick to start up, even in harsh conditions. Network communication is established automatically, ensuring reliability, ergonomics and ease of use.
Can't find the answer to your questions?
Are you looking for a spare part or component?
Looking for technical specifications?