In-the-hole longhole drill rigs
DA101 Pipe handlers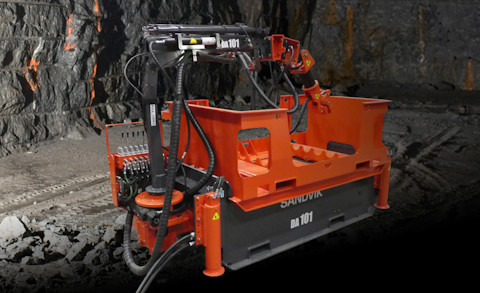 Sandvik DA101 pipe handler is powered by the ITH drill through the umbilical hose. It's skid mounted, designed for forklift transportation and is used for storage and mechanized handling of drill pipes. The pipe handler features a removable pipe cassette, telescopic boom, manipulator arm with rotary actuators and control system.
Enhanced safety

DA101 allows mechanized pipe handling which minimizes operator fatigue and improves safety.

Boosts productivity

The pipe handler is controlled through a portable remote panel, making it more productive. Less time is needed to handle the drill pipes, which increases the capacity for drilling.

Ideal for small spaces

The equipment allows mechanized operation in small drifts where larger drill units don't fit.
Learn more about DA101 Pipe handlers features

Direct loading

Pipes are loaded directly on the drill pipe arm with correct placement, which saves time and effort.
Can't find the answer to your questions?
Are you looking for a spare part or component?
Looking for technical specifications?