In-the-hole longhole drill rigs
KR-series Boosters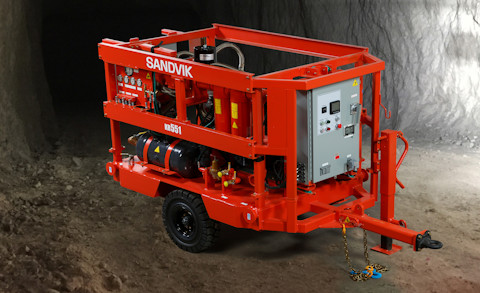 Sandvik KR-series portable, electric reciprocating boosters are designed to supply air to 3 - 8 inch in-the-hole (ITH) hammers and V-30 reaming heads across various altitudes. These boosters are compact, mobile and self-contained, making them easy to transport and place in the mine drifts. They deliver constant air supply to hammers on Sandvik in-the-hole (ITH) drills.
Sturdy construction

With robust frames and field-proven components, KR551 and KR1101 boosters are reliable and cost-effective. The components' superior cooling capacity prevents overheating, further enhancing their performance and lifespan.

Easy maintenance

KR-series boosters feature easy-to-access components that allow repairs in the field.

Stabilized for safety

These portable boosters are stabilized with hydraulic jacks during operation and service to ensure maximum safety.
Learn more about KR-series Boosters features

Transportable package

The boosters come with a heavy-duty towing package for easy transportation in mine drifts.
Can't find the answer to your questions?
Are you looking for a spare part or component?
Looking for technical specifications?