In-the-hole longhole drill rigs
DU431
Parallel coverage

4.800 m

Longhole diameter

89 - 203 mm (4 - 8 in.)

Drill pipe length

1.22 - 1.83 m (4.00 - 6.00 ft)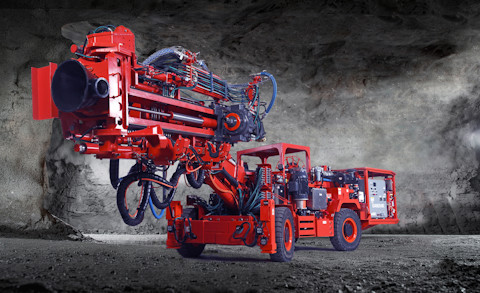 Sandvik DU431 is a fully mechanized in-the-hole (ITH) longhole drill fitted with an onboard booster and designed for underground mining in 3.2 x 3.2 or larger production drifts. This compact rig is capable of drilling vertical and inclined fans and single or parallel longholes.
Mobile and safe contained drill

DU431 has a compact and heavy-duty articulated four-wheel drive frame-steered carrier that provides high mobility and stability. The layout ensures fast and safe tramming in mine drifts and all service points are accessible from ground level.

Rotation head

RH6230 rotation head with heavy-duty spline piston, rotation motors and air swivel provides high radial loading capability on the bearings in pushing and pulling applications.

Telescopic boom

CB48 telescopic boom with 1.2 meter extension, 360° feed roll-over, wide swing, tilt angles, and pivot point rotation, makes DU431 suitable for most mining methods and various service support applications.
Product specifications
Learn more about DU431 features

On-board air booster

The onboard reciprocating or screw air booster improves the mobility of DU431 and increases productivity.

CANbus control system

The field-proven CANbus control system improves performance, hole accuracy and tool life.

Reliability in operation

With two front and rear stingers, DU431 provides proper feed stabilization and accuracy in drilling through constant feed force, ensuring high quality drilling.
Can't find the answer to your questions?
Are you looking for a spare part or component?
Looking for technical specifications?