In-the-hole longhole drill rigs
DU311
Parallel coverage

0.762 m

Longhole diameter

89 - 445 mm (4 - 18 in.)

Drill pipe length

1.22 - 1.83 m (4.00 - 6.00 ft)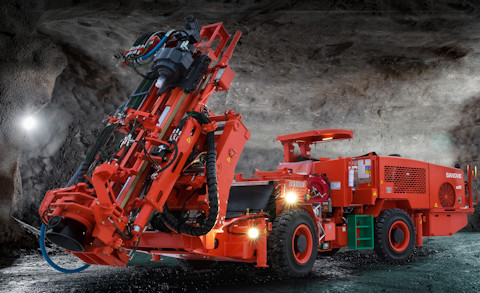 Sandvik DU311 is a fully mechanized, center-articulated, in-the-hole (ITH) drill designed for high mobility and utility in underground mining. It is a compact yet versatile machine with an onboard reciprocating booster for increased productivity.
Compact drill

The compact ITH longhole drill is perfect for contractors and mines requiring mobility when working in small cross sections. It is capable of drilling vertical and inclined fans and single or parallel longholes.

High mobility

The compact, heavy-duty, rubber-tired articulated carrier with hydrostatic transmission ensures maneuverability and good stability, for fast and safe tramming in small and medium mine drifts.

Onboard air supply

Reciprocating compressors are used where high compression ratios are required per stage without high flow rates. Onboard KR551 booster increases productivity and mobility.
Product specifications
Learn more about DU311 features
Flexible configuration
The different mast and carousel configurations for production drilling or service hole applications make this in-the-hole production drill highly flexible and versatile.
Drilling operation control
The CANbus drilling control system and instrumentation ensure good control of the drilling operation. The control panel is easy to use and maintain.
Increased profitability
High-accuracy ITH drilling delivers enhanced profitability with the lowest cost per ton.
Can't find the answer to your questions?
Are you looking for a spare part or component?
Looking for technical specifications?