In-the-hole longhole drill rigs
KS-series Boosters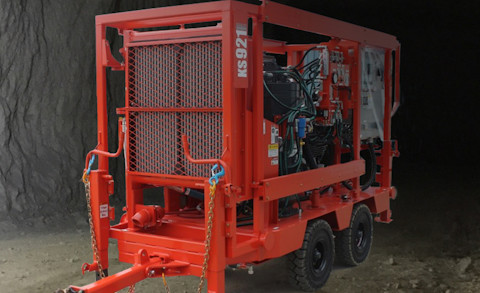 Sandvik KS-series portable electric screw boosters are designed to provide air to 3 - 8 inch ITH hammers and V-30 reaming heads across different altitudes. These boosters are compact, mobile and self-contained, making them easy to transport and place in the mine drifts. They deliver constant air supply to hammers on Sandvik in-the-hole (ITH) drills.
Robust construction

The boosters have sturdy frames and are designed with field-proven components, ensuring high reliability and low operating costs. Sandvik's portable boosters come with a heavy-duty towing package for easy transportation.

Straightforward maintenance

All components are easy to access and maintain, making these boosters repairable in the field, reducing down time and lowering maintenance costs.

Saving infrastructure investment

Sandvik KS921, KS1121 and KS1501 produce the required high air volume and pressure from low pressure inlet without the need for stationary air supply in the mine.
Learn more about KS-series Boosters features

Safe and stable

During operation and service, the boosters are stabilized using hydraulic jacks for safety and security.
Can't find the answer to your questions?
Are you looking for a spare part or component?
Looking for technical specifications?