In-the-hole longhole drill rigs
DU211-T
Parallel coverage

0.305 m

Longhole diameter

89 - 445 mm (4 - 18 in.)

Drill pipe length

1.22 - 1.83 m (4.00 - 6.00 ft)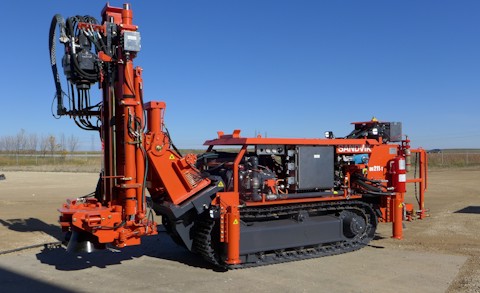 Sandvik DU211-T is a compact track-mounted in-the-hole (ITH) drill rig with a minimum width of 1.2 meters. Designed to carry ITH hammers powered with compressed air, this robust machine can drill longholes up to 100 meters in depth and can be used for reaming up to 445 mm holes in rapid raising using 12-in. hammer.
Easy access for servicing

This production drill has been designed to provide easy access to service points from ground level. This ensures safe and fast maintenance and increases productivity.

Heavy-duty slide-over

The heavy-duty single slide-over mounted on the front section of the carrier frame has a 305 mm lateral movement, ensuring operation flexibility and accuracy in positioning and alignment of the feed.

Robust and stable carrier

DU211-T has a robust tracked carrier with sealed, lubricated track chains. It is equipped with four carrier jacks – each with 381 mm extension. The carrier is designed for good stability, which ensures safe and fast tramming in narrow mine drifts.
Product specifications
Learn more about DU211-T features 

Compact and rugged design

The compact and rugged design of Sandvik DU211-T makes it easily maneuverable and ideal for small operation areas or service work.

Manual hydraulic control system

The manual hydraulic control system makes operation and maintenance easy and safe.

Flexible design

It has been designed for use with the full range of Sandvik Pipe Handlers and Booster Compressors for maximum flexibility and to answer mines' requirements.
Can't find the answer to your questions?
Are you looking for a spare part or component?
Looking for technical specifications?