In-the-hole longhole drill rigs
DU311-T
Parallel coverage

0.762 m

Longhole diameter

89 - 254 mm (4 - 10 in.)

Drill pipe length

1.22 - 1.83 m (4.00 - 6.00 ft)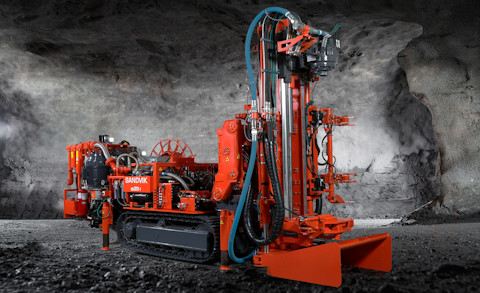 Sandvik DU311-T is a compact, track-mounted, in-the-hole (ITH) longhole drill fitted with an onboard booster and designed for underground mining in 4 x 4 meter or larger production drifts. This compact production drill can be used with the V-30 reaming head in raise boring for slot or ventilation raises, ore passes, waste chutes or service holes. It can also drill vertical and inclined fans and single or parallel longholes up to 150 m in depth.
Optimal production drilling

The compact drill is an optimal size for production drilling and service support in narrow mine drifts and is available in configuration for reverse circulation.

Robust rotation head

The drill has a robust RH6230 rotation head with spined piston and a rotation speed of 0 - 60 rpm.

Robust tracks

The carrier is equipped with triple grouser tracks, offering high levels of stability and increased weight distribution when tramming in mine drifts.
Product specifications