Cable bolters
DS422i
Bolting coverage

5.9 x 2.0 m

Hole length

Up to 38 m

Tramming type and distance

Hydrostatic transmission - Diesel engine - B4.5 (119 kW, Tier 3, Stage IIIA)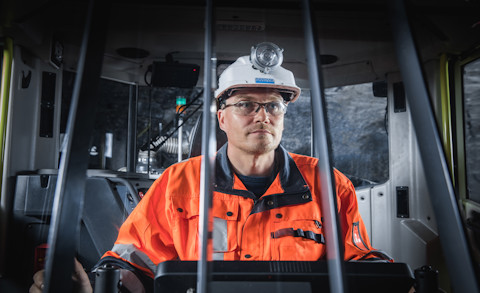 Sandvik DS422i is a rock support drill designed for cement-grouted cable bolt installation in underground mines and tunnels. The bolter can install up to 25 meter long cable bolts with several steel strands per hole and has an onboard automatic cement mixer and cement silo.
Designed with safety in mind

This cable bolter is designed for safety, with the bolting process performed by a single operator situated away from the drilling, grouting and cable installing module. There is no manual cement bag handling, the ergonomic cabin has better visibility and most safety checks can be done from ground level.

Improved efficiency

One hole automation and automatic cement mixing process ensure high bolting quality. Drilling accuracy is improved through better process control and automation. There are several automatic functions available, depending on automation level.

Increased productivity

The fully instrumented boom ensures fast and accurate boom positioning while RD414 high-frequency rock drill and the drilling control system provide increased penetration rates.
Product specifications
Can't find the answer to your questions?
Are you looking for a spare part or component?
Looking for technical specifications?