Rock support drill rigs
DS412iE
Bolting coverage

7 x 4.5 m (optimum)

Hole size

33 - 43 mm

Tramming type and distance

BEV - 3 km in 1:7 ramp upwards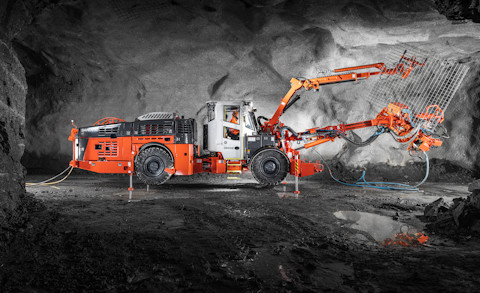 Sandvik DS412iE is a highly automated and productive battery-powered bolter for underground mining operations and civil construction tunneling. It reduces noise, thermal load and requirements for ventilation capacity, making the underground working environment safer for the teams in operation.
Intelligent power management system

Patented Charging While Drilling technology enables battery charging to be carried out during normal drilling cycles to ensure maximum tramming energy is available. Additional electric power for drilling can be drawn from the onboard battery pack, increasing drilling productivity without compromising the maximum peak power load taken from mine electrics.

Optimized rock reinforcement process

A wide selection of available bolt types and lengths combined with an automatic resin shooting and cement mixing system ensures a high-quality rock reinforcement process.

i-Class control system

The control system enables advanced mine automation and future teleremote solutions, reducing the need for manual tasks. The high level of data collection during bolting provides the necessary knowledge to understand how drifts and tunnels are supported, along with the possibility to document it.
Product specifications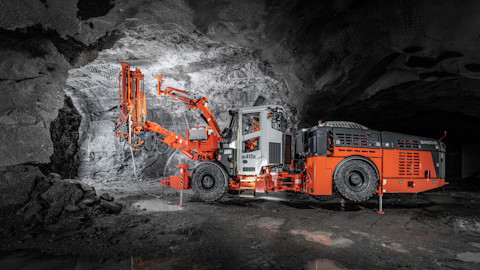 Learn more about DS412iE features

Improved working environment

0% diesel emissions while tramming results in an improved environment for underground workers.

Safe and efficient

The new carrier, high-frequency rock drill, intelligent control system and ergonomic cabin offer high levels of safety and efficiency.

Easy maintenance

High parts commonality through the 400i-Class for optimized maintenance. Specialists are available 365 days a year to provide the best-suited choices to preserve and enhance your machine's high performance throughout its lifetime. All Sandvik parts are genuine components, complemented by a range of robust tools.
Electrification
More productive, powerful and better for workers' health
"Every mine has a capital purchase or a maintenance replacement coming up in the next few years, and they would be missing out if they decided not to investigate or pursue battery-electric technology."
Can't find the answer to your questions?
Are you looking for a spare part or component?
Looking for technical specifications?