Electric equipment produces zero diesel emissions and reduces ventilation and cooling needs in your mine. Electrification already presents a strong long-term business case compared to conventional equipment. And your colleagues will enjoy healthier working conditions underground.
Sandvik is the leading partner in mine electrification and has driven innovation in electric equipment for more than 40 years. We also provide a complete ecosystem of self-owned services, parts and digital tools to support your electrification journey and make your mine more efficient.
Go Electric. Go Sandvik.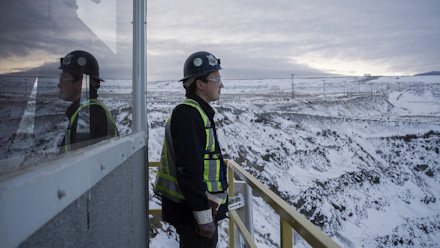 New Gold's New Afton mine grows Sandvik BEV fleet
New Afton underground block cave gold-copper mine was among the industry's earliest adoptors of BEVs, which have contributed to the mine's sustainability and productivity goals.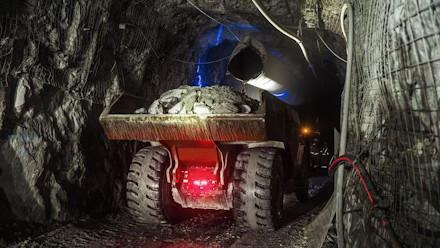 Newcrest replaces diesel trucks with Sandvik battery-electric haul trucks
With more than 18,000 operating hours, underground mining's largest battery-electric haul truck fleet is delivering marked productivity and environmental improvements for Newcrest's Brucejack gold mine.
Sustainability
The fast track to a more sustainable mine
Zero CO2 emissions, less waste due to smaller machines and regenerative braking as standard reduce GHG emissions and help you meet your sustainability targets.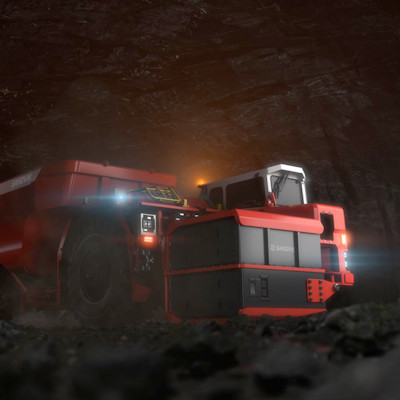 Sustainability

Zero CO2 emissions

0%

Productivity

Energy intensity per ton is three to five times lower for BEV equipment

< 3-5

Health and safety

Reduce heat emissions by up to 80% in an underground mine

80%
Mining economy
Better productivity - lower costs
Less heat output results in lower costs for ventilation and cooling, which, when combined with higher acceleration, operating speed and loading times, provides a strong business case.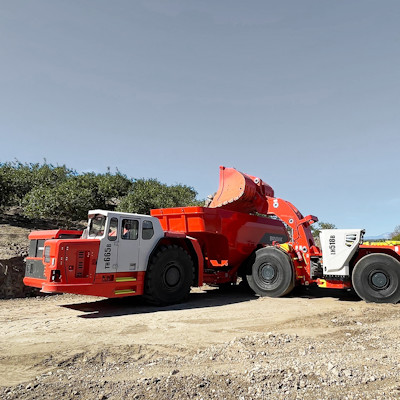 All electric equipment is developed by Sandvik for mining
Health and safety
Better health and safety conditions for workers
Zero diesel emissions, significant reductions in heat and lower noise and vibration levels all contribute towards an environment that is healthier and safer for your operators.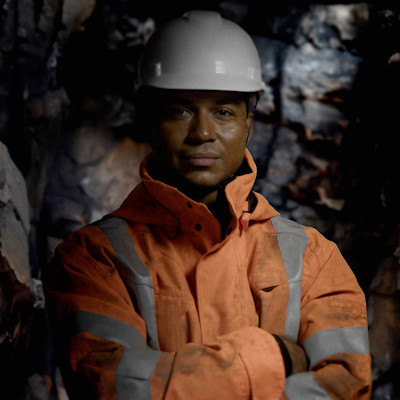 White paper
Power at the end of the tunnel - Electrifying underground mining
Building on its 40 years' experience of electrification, Sandvik has continued to acquire industry-leading competence and expertise in BEV technology, which we are keen to share with mining companies as they seek to assess the benefits and opportunities, wherever they are in the journey. 
Our battery electric range
Leading the way in mining electrification, we offer a full range of underground battery-electric equipment and with the biggest installed base of over 600 electric units worldwide we have the experience and expertise to support your shift to electrification.
Mobile Charging Station

Sandvik Mobile Charging Stations allow battery changes in about three minutes with AutoSwap and AutoConnect. The charging and cooling units are the same size, allowing for a variety of configurations to fit any mine. This makes it easy to relocate and handle multiple operations simultaneously.

Rapid battery changes

Batteries are swapped quickly, without needing overhead cranes or forklifts. The operator drives to the swapping bay, lowers the depleted battery and retrieves a fully charged one. AutoSwap and AutoConnect mean there's no need to leave the cabin.

Mobile recharging station

Charging depleted batteries requires the mobile charging station (MCS) and a connection to the mine electric grid. Use the same station to recharge any Sandvik-branded BEV loader or truck.

Easy organization

MCS units are uniform in size, enabling flexible and organized placement.

Fuss-free handling

Move the charging and cooling units with a forklift, with recommended lifting directions from front to back. Side pockets facilitate forklift handling and aid in turning and adjusting unit positions. Hoisting brackets in each corner provide additional lifting options.

Download Mobile charging station brochure (PDF) Link to download Mobile charging station brochure (PDF)

Battery As A Service

Sandvik Battery As A Service (BAAS) helps you shift to battery power by retaining ownership of the battery packs, chargers, spare parts and any needed maintenance. Each program is tailored to the needs of your fleet, mine design and cycle duties.

Retained ownership

As the owners of the batteries and chargers, Sandvik assumes responsibility for their maintenance and assures availability of stock. You receive expert help to ensure your batteries remain in optimal condition. At the end of their lifespan, Sandvik will repurpose or recycle them responsibly.

In-house battery production

Sandvik designs and assembles its battery system in-house, with full control over research and development, enabling rapid response to customer requests, aftermarket needs and product upgrades.

Lithium-iron phosphate chemistry

Sandvik BEVs use a lithium-iron phosphate (LiFePO4 or LFP) battery chemistry. LFP batteries have a longer lifetime than the more commonly used cobalt-based lithium-ion chemistry. LFP cell temperature rises occur at a lower rate than other chemistries for enhanced safety.

Extensive testing

Our BEVs are the result of over 15 years of battery design. We put batteries through extensive field testing in underground hard rock mines and have a test track that simulates mining conditions.

Download Battery as a service brochure (PDF) Download Battery as a service brochure (PDF)
Need some help?
Talk to our experts about how we can help you today