Top hammer longhole drill rigs
DL422iE
Boom coverage

3 m

Hole length

Up to 54 m

Tramming type and distance

BEV - 3 km in 1:7 ramp upwards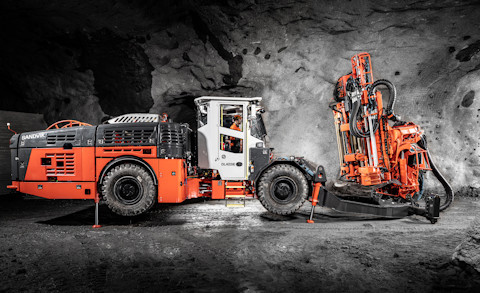 Sandvik DL422iE is a fully automated, battery-powered top hammer longhole drill, designed for underground mass mining in 4 x 3.5 meters (H x W) or larger production drifts. It reduces emissions while tramming, creating a healthier and safer working environment.
Automatic drill bit changer

Part of the one-hole and fan automation offering, the optional automatic bit changer allows autonomous drilling of complete fans through shift changes. Revolver-type carousel capacity is 5 to 10 bits.

i-Class Control System

i-Class Control System enables advanced mine automation and teleremote solutions. Fully compatible with My Sandvik and AutoMine® systems.

Zero emissions while tramming

DL422iE is equipped with an electric driveline system including a battery package and electric motor for zero emissions while tramming. It also helps reduce thermal load and ventilation requirements underground.

Readiness for AutoMine® for Underground Drilling

AutoMine® for Underground Drilling is a tele-remote system enabling an operator to remotely control and simultaneously supervise a single or multiple automated Sandvik underground drills, in drilling and ring to ring tramming.
Product specifications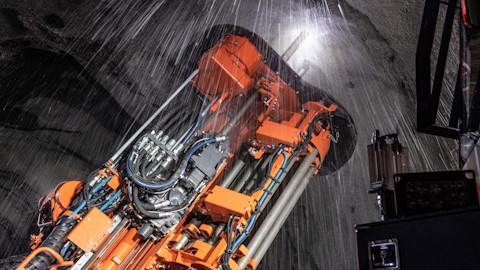 Learn more about DL422iE features

ZR35 telescopic boom

The fully instrumented ZR35 telescopic boom offers accurate positioning and strong drilling stability.

Powerful HF1560ST Rock drill

With the powerful rock drill, you can achieve up to a 10% increase in the net penetration rate, improving drilling speed and efficiency.

Up to 20% higher equipment utilization

Teleremote drilling (option) allows for continuous, unmanned operation during shift changes/breaks to increase productivity and improve equipment utilization.
Electrification
More productive, powerful and better for workers' health
"Every mine has a capital purchase or a maintenance replacement coming up in the next few years, and they would be missing out if they decided not to investigate or pursue battery-electric technology."
Can't find the answer to your questions?
Are you looking for a spare part or component?
Looking for technical specifications?