Top hammer longhole drill rigs
DL321
Boom coverage

2 m

Hole length

Up to 38 m

Tramming type and distance

Hydrostatic transmission (diesel) TCD2012 (74 kW Tier 3, Stage IIIA, Canmet, China 2)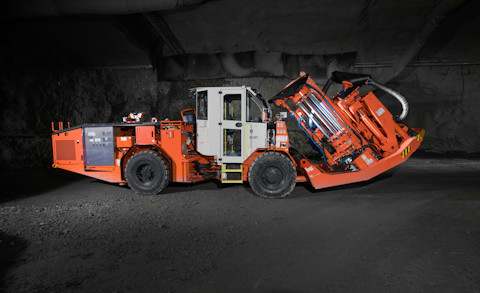 Sandvik DL321 is a versatile longhole drill rig engineered for small-and medium-scale production drilling in underground mines. It is designed for vertical and inclined plane rings and fans, as well as parallel long production holes and long single holes.
Maximum drilling accuracy

DL321's boom and support (frame) provide optimal drilling accuracy and stability.

Compact-size drilling module

DL321 has a heavy-duty drilling module, compact in size for small cross sections, providing accuracy and speed in rod changing.

Stability and safety while tramming

The carrier is designed for enhanced visibility and stability. Its compact dimensions and good cornering ensure safe tramming even in small mine drifts.
Product specifications
Learn more about DL321 features
Boom with 360° rotation
The 360° drilling module rotation with wide swing and boom extension makes DL321 suitable for most mining methods, as well as various service support applications.
CANbus

control system
With a user-friendly operating interface and fast, accurate feed control, the CANbus drilling control system allows for maximum productivity, drilling accuracy and tool life.
Can't find the answer to your questions?
Are you looking for a spare part or component?
Looking for technical specifications?