Top hammer longhole drill rigs
DL2710
Boom coverage

2 m

Hole length

Up to 38 m

Tramming type and distance

Hydrostatic transmission (diesel) TCD3.6 L4EDG (74 kW China IV)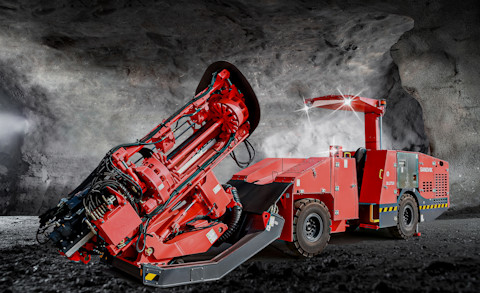 Sandvik DL2710 is a compact, fully-mechanized longhole drill with an electro-hydraulic top hammer designed for underground mining in 3.4 x 3.2 meter (H x W) or larger production drifts. Its robust design and intelligent drilling control system provide low operating costs and high productivity.
Safe remote drilling operations

DL2710 has a remote drilling control panel to ensure ease of use and increased operator safety. The operator's canopy and maintenance interface are also designed for safe operation. All service points are accessible from ground level.

High-quality drilling

Equipped with the HL820ST hydraulic rock drill, this drill rig offers high drilling performance and accuracy. Its intelligent drilling control system increases productivity.

Compact and robust design

DL2710 has a compact yet robust design that allows the drill module to be closer to the rock face, as well as ensuring low operating costs.
Product specifications
Learn more about DL2710 features

Fast and safe tramming

The carrier's layout is designed for visibility, mobility and stability, ensuring fast and safe tramming in narrow mine drifts.

Excellent hole accuracy

The longhole drilling module (with carousel) has feed instrumentation and a strong anchoring system, providing precise positioning and excellent hole accuracy.
Can't find the answer to your questions?
Are you looking for a spare part or component?
Looking for technical specifications?