Top hammer longhole drill rigs
DL432i
Boom coverage

6 m

Hole length

Up to 38 m

Tramming type and distance

Hydrostatic transmission - Diesel engine - QSB4.5 (119 kW Tier 3)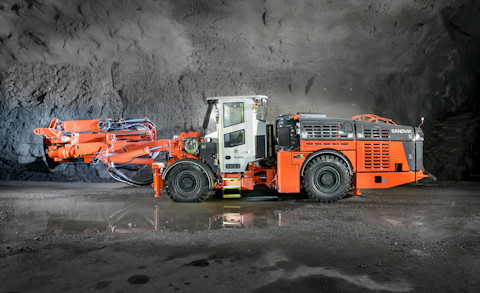 Sandvik DL432i is a fully mechanized top hammer longhole drill designed for underground mass mining in 3.4 m x 3.4 meter or larger production drifts. It has a high-drilling capacity and offers automated, unmanned drilling capabilities (option), maximizing equipment utilization.
Fully mechanized drill

Sandvik DL432i is a fully automated and digitalized longhole drill with tele-remote capabilities (option) for improved productivity and safety. It can drill vertical and inclined fans and single or parallel Ø64-102 mm longholes up to 38 meters deep, using T38, T45 and T51 MF-rods or Ø65 mm/T45 and Ø76 mm/ST58 tube rods.

Automated drilling for optimal productivity

iSOLO drilling control system provides accurate feed control regardless of rock conditions. Various instrumentation and automation options are available to answer customers' requirements. Operators can achieve maximum drilling productivity through easy data transfer and remote control features.

Highly versatile boom

The versatile boom with 1.6 m extension, 360° feed roll-over, wide swing and tilt angles, offers easy and fast set-up and makes the unit suitable for various mining methods and applications,
Product specifications
Learn more about DL432i features
Reliable carrier
The C400D carrier layout is designed for good visibility and stable tramming. Compact in dimensions, it offers accurate repositioning of the unit between fans.
Safe operations
DL432i features an operator's cabin with improved user interface and easy access to service points on the C400 carrier. v
Can't find the answer to your questions?
Are you looking for a spare part or component?
Looking for technical specifications?