Top hammer longhole drill rigs
DL431
Boom coverage

5 m

Hole length

Up to 38 m

Tramming type and distance

Hydrodynamic transmission - Diesel engine - OM904LA (110 kW, Stage IIIA)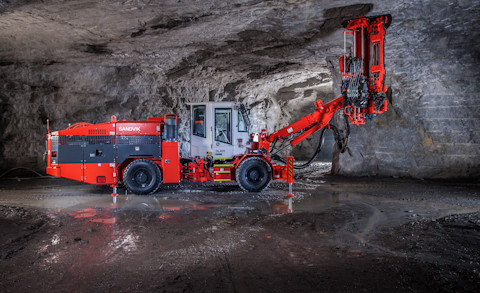 Sandvik DL431 is a highly versatile drill rig used for production and longhole drilling in underground mines. Designed for a large vertical and horizontal coverage, it drills holes ranging from 54 to 89 mm in diameter and reach depths of up to 38 meters.
Flexible boom

The telescopic boom has a wide drilling coverage, 360° rotation, large swing and tilt angles. It remains stable while drilling thanks to the front and rear stingers. The zoom sensor system ensures fast positioning for increased efficiency in underground drilling operations.

Accurate drilling data

CANbus TAS drilling control system has a user-friendly operating interface. It ensures good accuracy and speed in controlling the feed and rotation for better drilling performance and sensing of hole conditions.

Ground-level maintenance

The operating and maintenance interface is designed for easy access and safe operation. All service points are accessible from the ground level.
Product specifications
Learn more about DL431 features
Fault-finding system
The drill rig features an interactive diagnostics system to reduce downtime.
Can't find the answer to your questions?
Are you looking for a spare part or component?
Looking for technical specifications?