Battery electric trucks
TH550B
Dimensions (LxWxH)

11000 x 3350 x 2900 mm

Capacity

50,000 kg

Box range

24 - 31 m³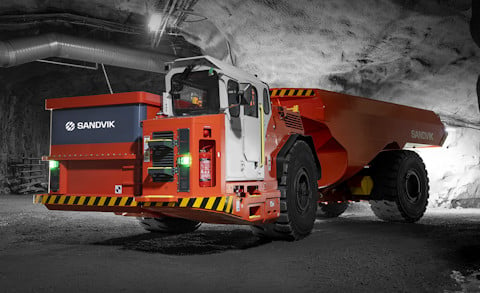 Sandvik TH550B is a fully battery-powered dump truck for underground mining with a 50-tonne capacity. The 3rd generation Battery Electric Vehicle (BEV) is designed around the Artisan® battery pack with a safe and proven lithium-iron-phosphate chemistry and electric driveline. It requires minimal additional infrastructure, needing only an electrical connection in a mine.
Self-swapping system

Feature Body: Sandvik TH550B features AutoSwap self-swapping systems and AutoConnect, making it the fastest BEV pit stop on the market. Operators can control the procedure without leaving the cabin

Zero diesel emissions

TH550B by Sandvik uses the safe and proven lithium-iron-phosphate chemistry (LiFePO4 or LFP), producing no underground exhaust emissions and significantly less heat. Mines see fewer CO2 emissions meaning fewer ventilation requirements.

High-performance driveline

TH550B offers high speeds due to the high-performance driveline - there's no transmission or need to change gears. Instant torque provides quick acceleration and regenerative braking recharges the battery while driving downhill.
Product specifications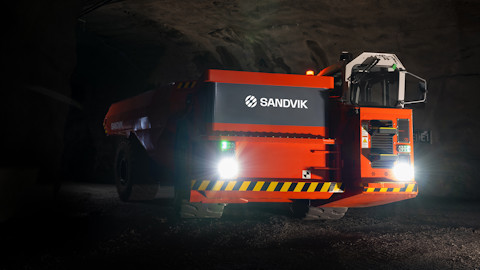 Learn more about TH550B features

Superior operator environment

Sandvik TH550B cabins are ROPS and FOPS certified, sealed for noise resistance, and fitted with dust-resistant upholstery. Cabin features include safety glass windows, emergency exits, and a magnetic interlock door switch that automatically applies the brakes when the cabin door opens.

12" Touch screen color display

The 12" touchscreen color display provides essential information and alarms on one screen. It reduces eye fatigue with a dark background and clear symbols. Sandvik Intelligent Control system prevents damage and production loss by warning of potential failures.
Mobile Charging Station

Sandvik Mobile Charging Stations allow battery changes in about three minutes with AutoSwap and AutoConnect. The charging and cooling units are the same size, allowing for a variety of configurations to fit any mine. This makes it easy to relocate and handle multiple operations simultaneously.

Rapid battery changes

Batteries are swapped quickly, without needing overhead cranes or forklifts. The operator drives to the swapping bay, lowers the depleted battery and retrieves a fully charged one. AutoSwap and AutoConnect mean there's no need to leave the cabin.

Mobile recharging station

Charging depleted batteries requires the mobile charging station (MCS) and a connection to the mine electric grid. Use the same station to recharge any Sandvik-branded BEV loader or truck.

Easy organization

MCS units are uniform in size, enabling flexible and organized placement.

Fuss-free handling

Move the charging and cooling units with a forklift, with recommended lifting directions from front to back. Side pockets facilitate forklift handling and aid in turning and adjusting unit positions. Hoisting brackets in each corner provide additional lifting options.

Download Mobile charging station brochure (PDF) Link to download Mobile charging station brochure (PDF)

Battery As A Service

Sandvik Battery As A Service (BAAS) helps you shift to battery power by retaining ownership of the battery packs, chargers, spare parts and any needed maintenance. Each program is tailored to the needs of your fleet, mine design and cycle duties.

Retained ownership

As the owners of the batteries and chargers, Sandvik assumes responsibility for their maintenance and assures availability of stock. You receive expert help to ensure your batteries remain in optimal condition. At the end of their lifespan, Sandvik will repurpose or recycle them responsibly.

In-house battery production

Sandvik designs and assembles its battery system in-house, with full control over research and development, enabling rapid response to customer requests, aftermarket needs and product upgrades.

Lithium-iron phosphate chemistry

Sandvik BEVs use a lithium-iron phosphate (LiFePO4 or LFP) battery chemistry. LFP batteries have a longer lifetime than the more commonly used cobalt-based lithium-ion chemistry. LFP cell temperature rises occur at a lower rate than other chemistries for enhanced safety.

Extensive testing

Our BEVs are the result of over 15 years of battery design. We put batteries through extensive field testing in underground hard rock mines and have a test track that simulates mining conditions.

Download Battery as a service brochure (PDF) Download Battery as a service brochure (PDF)
Electrification
More productive, powerful and better for workers' health
"Every mine has a capital purchase or a maintenance replacement coming up in the next few years, and they would be missing out if they decided not to investigate or pursue battery-electric technology."
Can't find the answer to your questions?
Are you looking for a spare part or component?
Looking for technical specifications?