Development drill rigs
DD422iE
Coverage

60 m²

Hole length

3.44 - 5.88 m

Tramming type and distance

BEV - 3.7 kilometers in 1:7 ramp upwards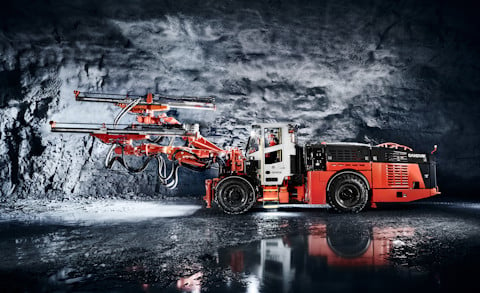 Sandvik DD422iE is a battery-powered mining jumbo designed to remove emissions while tramming. It reduces noise, thermal load and requirements for ventilation capacity, making the underground working environment safer for the teams in operation.
100 kWh onboard batteries

With the intelligent power management system, patented by Sandvik, you accomplish battery charging during the normal drilling cycle. This ensures maximum tramming energy is always available.

TFX telescopic feed

The versatile feed allows for multipurpose drilling, including face drilling, bolt hole drilling, bolt installation and cross cuttings in a limited space where both long and short rods are required.

Dual controls

The dual controls option allows true multipurpose usage of the drill, improving fleet optimization, versatility and performance. DD422iE can be used across multiple applications.
Product specifications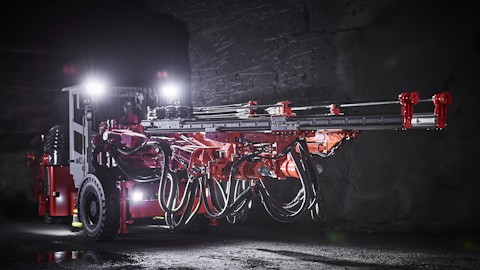 Learn more about DD422iE features

100% Electric tramming

DD422iE produces zero emissions while tramming due to the onboard battery's electric energy, improving the health and safety of all underground workers.

Reduce reliance on diesel

Eliminate diesel particulate matter (DPM) to lower ventilation costs and energy consumption. Reduce the need for expensive infrastructure to transport diesel underground.

Energy reserve for max loads

Draw reserve power from the batteries during peak loads while drilling with the jumbo's intelligent power management system. Meet ever-increasing productivity requirements despite limited underground mine electric power capabilities.

Drill anywhere in the world

The multi-voltage system creates flexibility to operate anywhere in the world. The jumbo operates in networks ranging from 380V - 1000V and both 50 and 60Hz, meaning you can move your drill from one country to another with ease.
Electrification
More productive, powerful and better for workers' health
"Every mine has a capital purchase or a maintenance replacement coming up in the next few years, and they would be missing out if they decided not to investigate or pursue battery-electric technology."
Can't find the answer to your questions?
Are you looking for a spare part or component?
Looking for technical specifications?