Low profile drill rigs
DD211L-V
Coverage

16 m²

Hole length

Up to 2.1 m

Tramming type and distance

Hydrostatic transmission - Diesel engine - BF4M2012 (74 kW, Tier 2)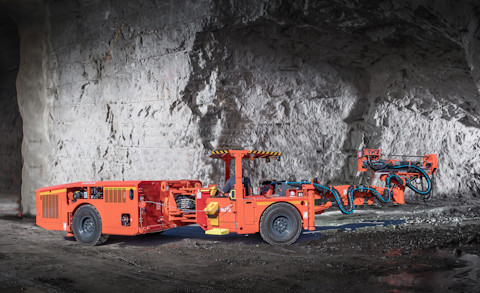 Sandvik DD211L-V is a single-boom, low-profile drill rig engineered for excavations with headroom as low as 2 meters (6.6 ft.). The carrier, multi-purpose boom and telescopic feed give this high-performing rig a high versatility.
Straightforward maintenance

All service points are well-protected yet easy to access for maintenance.

Reliable rock drill

The high-frequency RD314 rock drill is compact, robust and offers a high penetration rate. Sandvik RD314 has excellent serviceability due to its modular construction and visual wear indicators. Service interval is 500 percussion hours.

Strong boom and feed structure

The short boom and short telescopic feed give versatility and agility, meaning your operators can access the most confined areas. It has been designed for face, support hole, cross-cut and XLP vent hole drilling in drift heights as low as 2 meters.
Product specifications
Learn more about DD211L-V features 

Easy maneuvering

The powerful four-wheel-drive articulated carrier ensures safe and fast maneuvering in tight conditions while the V-shaped layout offers visibility and balance.
Can't find the answer to your questions?
Are you looking for a spare part or component?
Looking for technical specifications?