Development drill rigs
DD322i
Coverage

58 m²

Hole length

3.44 - 5.27 m

Tramming type and distance

Hydrostatic transmission - Diesel engine - TCD3.6 (100 kW, Tier 3, Stage IIIA)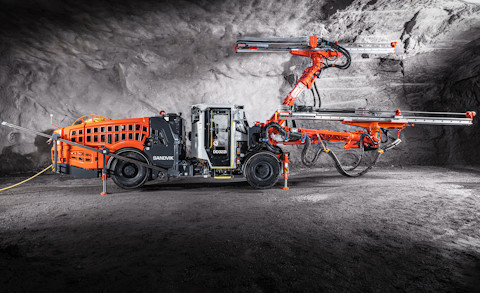 Sandvik DD322i features a compact new carrier and design, for tramming in small headings, tight corners and intersections.
Intelligent boom 

Equipped with two roll-overs, electronic parallelism and instrumentation, the SB55i instrumented boom ensures precise and fast positioning of the drill feed.

Low emissions diesel engine

Improved underground working conditions with Sandvik DD322i, equipped with engines certified to more restrictive environmental norms, including Tier 4F, Stage V certification.

Optimized working environment

A modern ergonomic cabin that offers reduced noise levels and 55% more visibility to maximize operator comfort, thanks to larger windows and glass doors.
Product specifications
Learn more about DD322i features

Sa

fer operations

Simultaneously control two booms while tramming with the Boom Control While Tramming (BCWT) option. Boost your productivity and enhance operator safety with the boom collision avoidance system and teleremote drilling capabilities.
Can't find the answer to your questions?
Are you looking for a spare part or component?
Looking for technical specifications?