Development drill rigs
DD320S
Coverage

41 m²

Hole length

3.44 - 4.66 m

Tramming type and distance

Hydrostatic transmission - Diesel engine - QSB 4.5 (124 kW, Stage IIIA)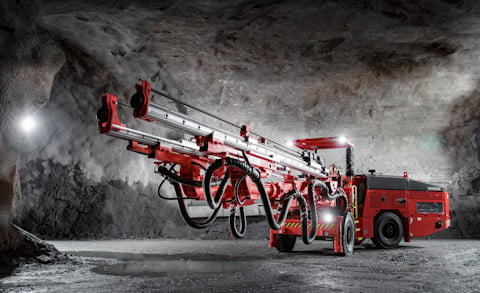 Sandvik DD320S is a compact two-boom face drill designed to work in demanding underground conditions. It offers versatility with face drilling, cross-cut drilling and bolt-hole drilling, while its booms provide a 41 m² coverage, making it suitable for various tasks.
Easy service and maintenance

Sandvik DD320S offers improved serviceability from ground level. Due to the high level of reliability and spare part commonality, the drill ensures lower operating costs and longer service intervals.

Robust design

The development drill rig's well-proven components ensure a high level of reliability.

Wide coverage

The B26XLSF booms provide the rig with a wide coverage of 41.4 m² and are designed with interchangeable and adjustable wear pieces.
Product specifications
Learn more about DD320S features

Safety certified cabin

The FOPS-certified canopy and optional FOPS/ROPS-certified operator cabin offer increased safety to operators. The intuitive user interface and THC hydraulic drilling control system make the drill easy to operate.

Heavy duty drilling

Sandvik DD320S uses the RDX5 rock drill for heavy-duty drilling and bolting. With a 20 kW drilling power, it ensures smooth and efficient performance. The different feeds (TF/TFX) offer efficiency in a wide range of applications.
Can't find the answer to your questions?
Are you looking for a spare part or component?
Looking for technical specifications?