Development drill rigs
DD421
Coverage

60 m²

Hole length

3.44 - 4.66 m

Tramming type and distance

Hydrodynamic transmission - Diesel engine - MB OM904LA (110 kW, Tier 3, Stage IIIA)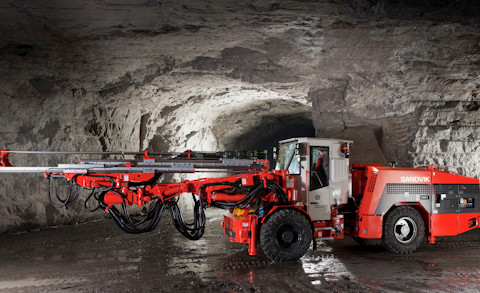 Sandvik DD421 is a two-boom, electro-hydraulic mining development drill offering highly accurate drilling and efficient control, due to adjustable drilling settings that optimize drilling performance.
Agile carrier

DD421 features an agile frame-steered carrier that facilitates easy tramming in small tunnels.

Hydraulic controls

The hydraulic control system allows for fast, accurate drilling during drifting and tunneling of 8 - 60 square meter cross sections.

Robust and proven components

The compact drilling module allows for multi-directional drilling in low-heading tunnels. This, in combination with a range of well-designed robust components, increases equipment reliability and drilling efficiency.
Product specifications
Learn more about DD421 features

FOPS/ROPS-approved

cabin

Enhance the comfort and safety of operators with a FOPS/ROPS-approved (ISO 3449) cabin. Features include air-conditioning and safety-laminated windows.
Can't find the answer to your questions?
Are you looking for a spare part or component?
Looking for technical specifications?