Development drill rigs
DD321
Coverage

49 m²

Hole length

3.44 - 4.66 m

Tramming type and distance

​​Hydrodynamic transmission - Diesel engine – QSB 4.5 (124 kW, Stage IIIA)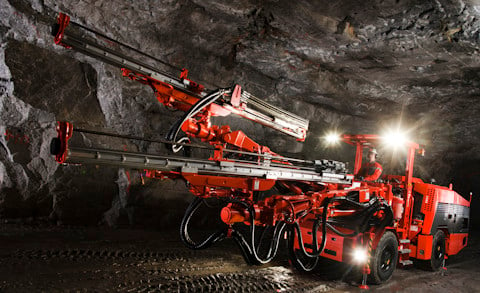 Sandvik DD321 is a compact two-boom jumbo capable of operating in demanding conditions, thanks to its flexibility to answer various needs such as face drilling, cross-cut drilling and bolt-hole drilling.
Accuracy and efficiency

The rig's adaptive and advanced control system offers optimized drilling performance and tool life in all rock conditions.

Versatile drill

DD321 offers a versatile feed to increase productivity in a wide range of applications ensuring minimum length for short holes and maximum length for long holes.

Reliability

The compact two-boom Sanvik DD321 ensures a reliable workplace for both operators and maintenance crews with well-designed structures, proven components and improved serviceability.
Product specifications
Learn more about DD321 features

FOPS/ROPS-certified ca

bin

Choose between a FOPS-certified canopy or a FOPS/ROPS-certified cabin with safety laminated windows to enhance operator protection.