Rock support drill rigs
DS412i
Bolting coverage

7 x 4.5 m (optimum)

Hole size

33 - 43 mm

Tramming type and distance

Hydrostatic transmission - Diesel engine - QSB4.5 (119 kW, Tier 3, Stage IIIA)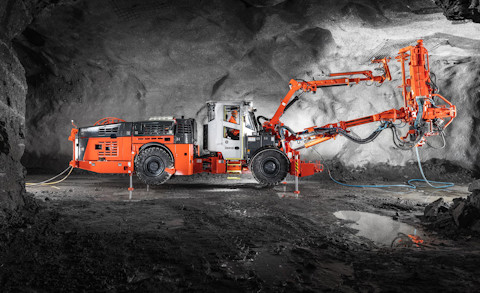 Sandvik DS412i is a highly automated rock bolting rig for underground mining operations and civil construction tunneling. It combines a safe, ergonomic working environment with high levels of performance. The i-Class platform offers various levels of automation for rock support drilling.
Versatility in bolting

The upgraded bolting head with different bolt lengths provides an extensive bolt selection, while the eight-rock bolt carousel ensures that DS412i is capable of installing different types of rock bolts ranging from 1.5 m (5 ft.) to 3m (10 ft.) in length enabling wider bolt selection for more versatility.

Quality process

The instrumentation combined with Sandvik's iSURE® drill plan software, supports digital bolting plans and provides the rock engineering teams with comprehensive bolting information for quality control.

Drilling efficiency

Fast and accurate boom positioning is possible with the fully instrumented boom and advanced boom manipulator mode. The RD314 rock drill combined with the intelligent drilling control system ensures high penetration rates and accurate hole location.
Product specifications
Learn more about DS412i features

Safety and efficiency

Equipped with a completely new carrier, high-frequency rock drill, control system and ergonomic cabin, DS412i offers high levels of safety and efficiency, providing peace of mind for all rock reinforcement operations.
Can't find the answer to your questions?
Are you looking for a spare part or component?
Looking for technical specifications?