Rock support drill rigs
DS312
Bolting coverage

6.3 x 2.1 m (optimum)

Hole size

33 - 43 mm

Tramming type and distance

Hydrostatic transmission - Diesel engine - TCD2012 (74 kW, Tier 3, Stage IIIA, Canmet, China 2)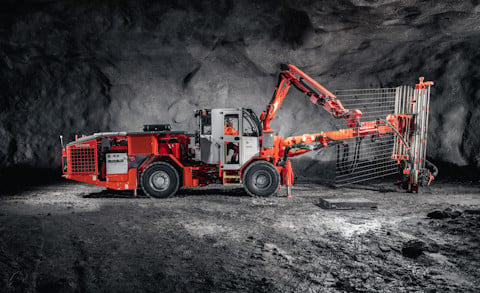 Sandvik DS312 is a one-man-operated, compact and highly versatile rock support drill with a dedicated screen handler boom designed for fully mechanized rock reinforcement in underground mines with small and medium cross sections.
Independent mesh handler

This mesh handler is installed on its own boom with continuous 360° screen rollover. The mesh can easily be grabbed from the side wall or floor. It allows a safer and faster mechanized meshing process.

Optional instrumentation package

Sandvik Bolting Instrumentation (SBI) and the SB70S instrumented boom combined with data transfer ensure a safer, smoother bolting process as the operator has all valuable information available on the rig's touch screen.

Optimized working environment

This drill rig offers two modern, ergonomic FOPS/ROPS cabins (standard or low-height option) for maximum operator comfort with improved visibility and reduced noise level.
Product specifications
Learn more about DS312 features

Higher productivity

Achieve up to 35% higher penetration rates with the new SBH bolting head and RD314 rock drill, combined with fast and easy wire mesh reinforcement from the SB40SH screen handler boom, which features 360° continuous rotation.

Versatility

DS312 bolter comes in three versions: DS312 (diesel tramming and electric drilling), DS312D (diesel engine for tramming and drilling for areas without electrical power) and DS312DE (diesel tramming and electric or diesel drilling).
Can't find the answer to your questions?
Are you looking for a spare part or component?
Looking for technical specifications?