Rock support drill rigs
DS211L-M
Bolting coverage

6.9 x 2.9 m (optimum)

Hole size

22 - 45 mm

Tramming type and distance

Hydrostatic transmission - Diesel engine - BF4M2012 (74 kW, Tier 2)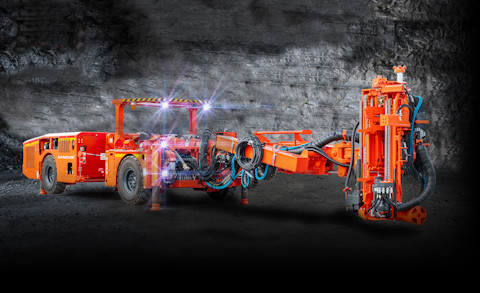 Sandvik DS211L-M is a low-profile bolter engineered for rock reinforcement in excavations with headroom as low as 2 meters (6.5 feet). The dedicated drilling system ensures maximum drilling performance, optimal reliability and steel economy.
Fully mechanized drill

The fully mechanized drill rig can be handled by a single operator. It ensures safe access to the ore, while increasing production, avoiding dilution and optimizing excavation.

Radio remote operation for maximum safety

Radio remote operation allows operators to control DS211L-M from a safe distance, reducing their exposure to hazardous working conditions, such as falling rocks or unstable ground.

Robust telescopic boom

The telescopic boom allows installation of several bolt rows without moving the machine, ensuring increased productivity.
Product specifications
Learn more about DS211L-M features

Easy maneuvering

The V-shape layout offers visibility and balance while the four-wheel-drive articulated carrier ensures safe and fast maneuvering in tight conditions.

Easy maintenance

All the service points are well protected but easy to access from ground level.
Can't find the answer to your questions?
Are you looking for a spare part or component?
Looking for technical specifications?