Rock support drill rigs
DS411
Bolting coverage

6.8 x 2.5 m (optimum)

Hole size

33 - 43 mm

Tramming type and distance

Hydrodynamic transmission - Diesel engine - OM904LA (110 kW, Tier 3, Stage IIIA)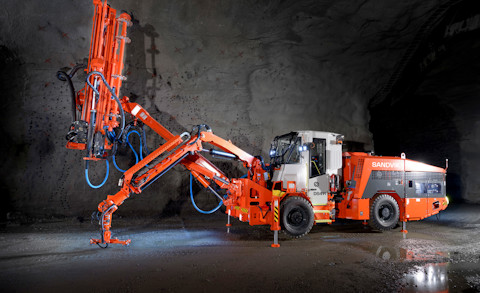 Sandvik DS411 is a mechanized rock reinforcement drill rig designed to install the most common rock bolt types in combination with steel wire meshes when required. This bolter is controlled by a single operator and can install several rows of 1.5 - 3 meter rock bolts from a single set-up.
Safe, mechanized bolting

Completely mechanized and consistent bolting can be controlled by a single operator located far from the unsupported roof.

Well-proven bolting head

Features a well-proven bolting head with reliable parts and high-frequency RD314 rock drill, which enables an excellent penetration rate. One hole drilled, one rock bolt installed, each time, ensuring a steady and consistent process.

Easy maintenance from the ground

Carrier is designed for easy maintainability. Daily routine checks are carried out with feet on the ground for improved safety.
Product specifications
Learn more about DS411 features

Increased safety

The FOPS/ROPS certified cabin or the FOPS-certified canopy (option) offers increased operator safety during bolting or meshing operations.
Can't find the answer to your questions?
Are you looking for a spare part or component?
Looking for technical specifications?