Rock support drill rigs
DS511
Bolting coverage

9 x 5 m (optimum)

Hole size

33 - 43 mm

Tramming type and distance

Hydrodynamic transmission - Diesel engine - OM904LA (110 kW, Tier 3, Stage IIIA)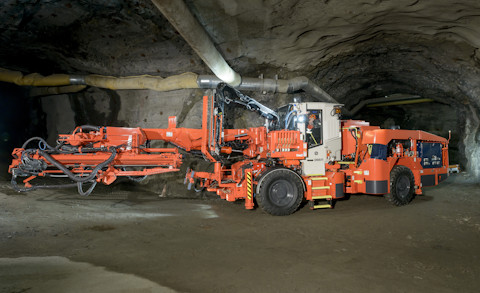 Sandvik DS511 is a rock support drill rig offering a wide coverage for large-scale civil engineering, tunneling and underground mining operations. The BH bolting head and compact yet powerful rock drill combine to create a machine that allows installation of the longest possible bolts.
Enhanced operator comfort

DS511 has an enclosed air-conditioned cabin that can be tilted back 10° when bolting at maximum reach, ensuring the operator's comfort at all times.

Wide coverage

Equipped with a SB120S boom, DS511 offers a wide coverage for underground mining operations and civil construction tunneling.

Versatile rock bolter

The drill is a versatile rock bolter with different bolt types and length, which offers improved flexibility in rock support operations.
Product specifications
Can't find the answer to your questions?
Are you looking for a spare part or component?
Looking for technical specifications?