Cable bolters
DS421
Bolting coverage

5.3 x 2.0 m

Hole length

Up to 25 m

Tramming type and distance

Hydrodynamic transmission - Diesel engine - OM904LA (110 kW, Tier 3, Stage IIIA)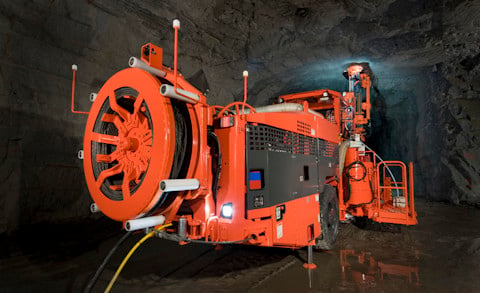 Sandvik DS421 is a self-contained cable-bolting rig for rock reinforcement in underground mines and tunnels with small and medium cross-sections. The full bolting cycle can be operated by one person working safely under the canopy or in a soundproof, air-conditioned cabin.
Easy maintenance from the ground

Daily and routine checks are carried out with both feet on the ground, access to main components is easy for increased safety.

Onboard cement mixer

The onboard cement mixer, cement bag platform or optional cement silo and steel strand reel mean the rig is autonomous for longer than one shift.

Safe drilling operations

The operator station is equipped with front protection bars to protect the operator from loose or flying rocks.
Product specifications
Learn more about DS421 features

Increased efficiency

The rear stinger on the cable bolting head maximizes drilling speed and accuracy. The flexible installation sequence increases efficiency. The strong feed provides stability to the rock drill and drill string for better hole accuracy and rock tool lifetime.