Cutting Tools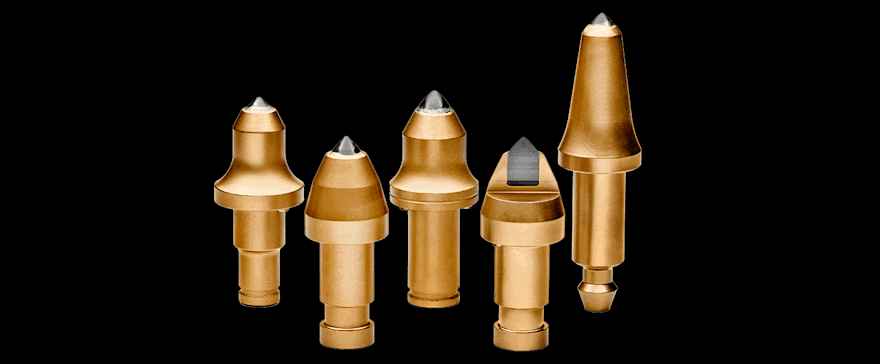 Sandvik supplies a range of highly energy-efficient and productive Point-attack rock cutting tools, suitable for civil and mining applications.
Need to know more?
Sandvik provides complete mining tool systems for road headers, long wall shearers and continuous miners, with matching retainer systems for shank diameters ranging from 25 mm to 43/35 mm.
The demand on tool performance, especially to the cemented carbide tip material and its resistance to wear and fracturing, becomes more critical as we progress into harder rock and mineral formations.
Utilizing the combination of tool design, high-grade alloy steel and our premium PowerCarbide® grades, ensures longer service life and higher production rates are achieved.
CARBIDE TIPS
INSERT CARBIDE TIPS

Insert carbide tips are best suited for penetration applications where steel wash is not an issue. These tips are ideal for use in hard, high-impact conditions.
CAP CARBIDE TIPS

Cap carbide tips have a valve-seat braze joint for increased strength and shear resistance. The tips provide excellent penetration, and the large carbide shoulder gives excellent protection against steel wash. These tips are best suited for use in soft to medium-hard materials or conditions.
RADIAL CARBIDE TIPS

Radial carbide tips are used in tools that do not rotate. They are strategically located at different attack angles for maximum efficiency. The face of each carbide tip is designed with a specific angle for high productivity.
HYBRID CARBIDE TIPS

Hybrid Carbide tips are developed to work just as well in extremely demanding cutting conditions.
They are best suited for medium to hard materials where steel wash can be an issue.
They include a flared nose, valve seat braze joint and extended base to provide excellent penetration while maintaining maximum strength, shear resistance and durability in difficult conditions.
TOOL BODIES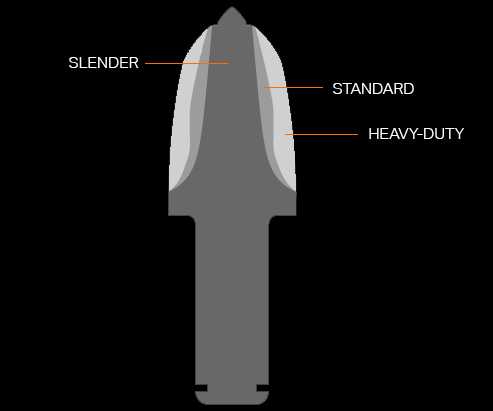 | | | |
| --- | --- | --- |
| SLENDER | STANDARD | HEAVY-DUTY |
| Provides better breakout and penetration while producing le​ss fines | Provides a powerful combination of penetration and durability | Provides greater strength and maximum durability |
These body types are available in solid and/or finned body styles to meet your application and personal preference. To match specific machine specifications, Sandvik also offers versions with step shanks.
PRODUCTS
Sandvik conical tools are available in shank diameter sizes from 25 mm to 50 mm for use on road headers, longwall and continuous miners and crushers for the mining and tunneling industries.