Top hammer drilling tools
Sandvik Top hammer drilling tools efficiently transmit impact power to the rock, minimizing energy loss. This leads to enhanced production, reduced maintenance and sustainable operations.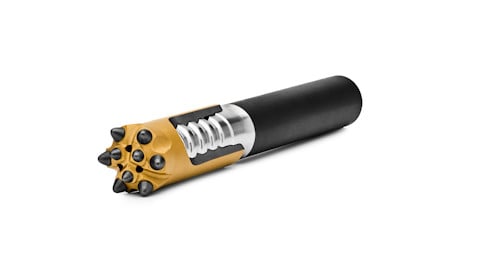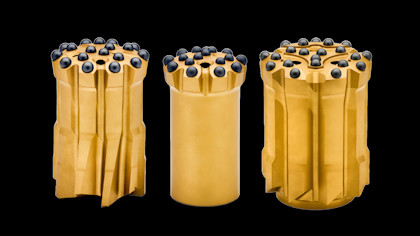 Sandvik Top hammer drill bits offer extended wear life, higher penetration rates, straighter holes and longer bit life. Threaded button bits use a proprietary grade of cemented carbide throughout and range from 28 - 152 mm in diameter. Various button shapes (spherical, semi-ballistic, and conical) and skirt designs (regular or retrac) deliver optimal performance in different rock formations.
Top hammer drill bits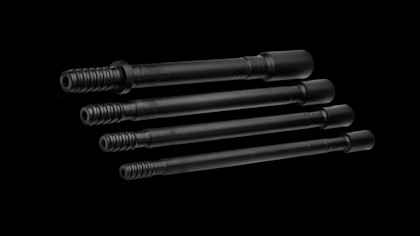 High-quality drill rods are crafted from premium alloy steel and offered in hexagonal and round configurations. These rods are engineered to provide straighter holes with minimal deviation and extended service life.
Top hammer rods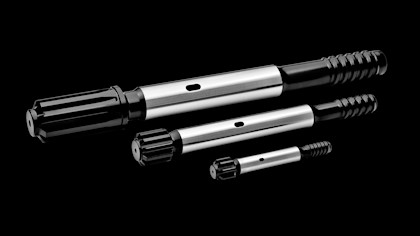 Top hammer shank adapters
Top hammer shank adapters are engineered to withstand extreme stress. They transmit impact energy from the rock-drill piston and rotation torque into the drill string without energy loss.
Top hammer shank adapters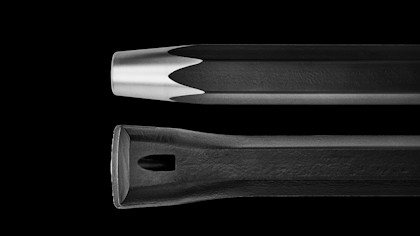 Top hammer integral drill steel (IDS)
Top hammer integral drill steel has high fatigue strength and durability. It offers the highest wear resistance for an efficient and economical drilling operation.
Top hammer integral drill steel (IDS)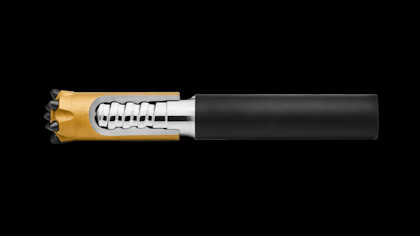 Sandvik Alpha™ 340 is an advanced development based on the popular Sandvik Alpha™ system. It replaces the successful Alpha™ 330 thread system and offers up to 30% longer service life, resulting in increased productivity and reduced cost per meter advanced.
Sandvik Alpha™ 340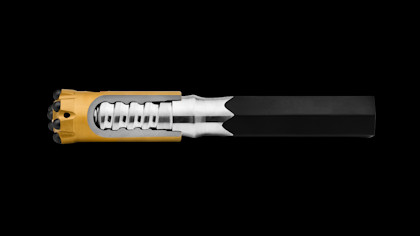 Sandvik Alpha™ 360 is an addition to the unique Sandvik Alpha™ system. Its robust design offers double the lifespan compared to industry standard solutions, making it suitable for various drilling conditions. It combines durability with precise hole accuracy, resulting in increased productivity for tunneling and mine development.
Sandvik Alpha™ 360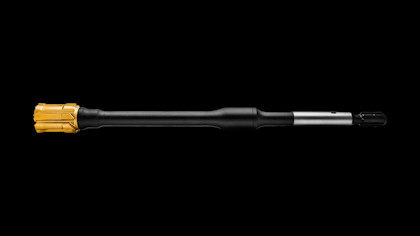 LT90 rock tools form part of the Top Hammer XL system. These tools offer seamless integration and enhanced performance, delivering effective drilling for blast holes ranging from 140 to 178 mm (5.5 to 7 in.).
LT90 Rock Tools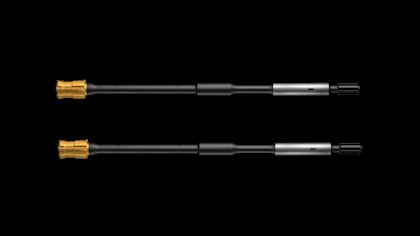 Curved thread CT55 and CT67
CT55 and CT67 curved thread systems are designed for surface mining and quarrying. These systems accommodate higher drilling power than standard and feature a curved profile that reduces stress levels strategically while optimizing the product for fatigue strength.
Curved thread CT55 and CT67
Longer-lasting components

Sandvik drill steel has high fatigue strength and toughness, offering superior wear resistance. Asymmetric thread designs result in a rigid, integrated powerpack drill string that increases penetration rate for improved energy transfer, prolonging life of components by at least 30%.

Lower drilling costs

Improved steel grade, perfect bit-rod connection and short and robust bit threads all contribute to a lower cost per meter. Drill rods and tools are designed to better withstand friction heat and high impact from hydraulic hammers and adhesion, reducing galling and pitting.

Innovative PowerCarbide®

PowerCarbide® technology embodies our strongest carbide grades to ensure top performance, high quality and excellent durability. These innovative grades enable buttons to keep their shape for longer periods, resulting in longer grinding intervals and heightened safety.
Learn more about Top hammer drilling tools features
Straight, precise holes
Sandvik MF rod strings deliver exceptionally straight holes, reducing deviation by up to 40%. Straighter holes lead to improved cost-effectiveness since hole deviation can affect profitability due to poor fragmentation.
Reduced downtime
Sandvik Alpha™ uses different flank angles of the thread profile, which reduces stress levels in the critical area of the tightening flank, where many breakages begin. Fewer bit changes mean more time spent on drilling operation, which also results in less manual handling and a lower risk of injury.
Face drilling and bolting
Drifter rods, couplings, shank adapters and button bits with PowerCarbide® technology are for drilling 33 mm to 51 mm holes. Sandvik Alpha™ 330 ensures excellent collaring accuracy, hole straightness, faster ore access and shorter tunneling projects with a short thread design and double guide system.
Handheld drilling
Sandvik's integral drill steels, tapered rods and bits for handheld drilling support your operations. Carburized rods offer extended tool life and productivity, while tapered button bits reduce costs and increase wear resistance. Equipped with PowerCarbide® technology, bits enhance drilling operations significantly.
Long-hole drilling
MF rods, drill tubes, shank adapters and drill bits deliver efficient penetration. They create straight drill holes and enable autonomous drilling, reducing total production costs.
Need some help?
Talk to our experts about how we can help you today