Top hammer drilling tools
Sandvik Alpha™ 340
Rod length

2.4 - 6.4 m

Bit size

43 - 76 mm

Reaming bit size

102 - 127 mm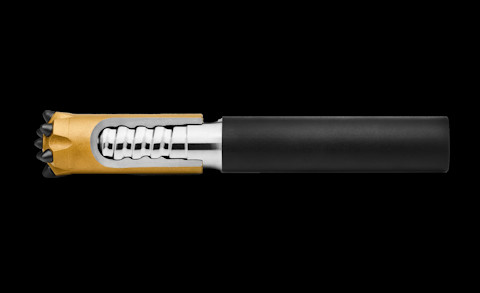 Sandvik Alpha™ 340 is an advanced development based on the popular Sandvik Alpha™ system. It replaces successful Alpha™ 330 thread system and offers up to 30% longer service life, resulting in increased productivity and reduced cost per meter advanced.
Cutting-edge design

With a new asymmetric thread profile, the product is strengthened where it is most needed. By using different flank angles on the thread profile, stress levels are reduced in the critical area of the tightening flank, where many breakages begin. This stronger profile also allows an increased diameter of the bit end thread, boosting fatigue strength. Additionally, uncoupling is easier than in previous designs, saving both time and effort during underground operations.

Increased sustainability

These new tools benefit both the challenging underground drilling environment and workplace safety. The prolonged rod life means fewer rod changes and less heavy lifting for the driller. It is also a more sustainable choice for the environment.

Advanced technology

The new thread concept includes improved drill bits. Successful PowerCarbide® grades are now more widely available in the standard assortment, with many bits having received design upgrades with more gauge angles or larger buttons for increased robustness.
Product specifications
Can't find the answer to your questions?
Are you looking for a spare part or component?
Looking for technical specifications?