CT55 and CT67
Curved thread CT55 and CT67
Hole diameter CT55 (new T51)

89.0 - 115.0 mm (3.5 - 5.5 in.)

Hole diameter CT67 (new GT60)

102.0 - 140.0 mm (4.0 - 5.5 in.)

Flushing house

70 mm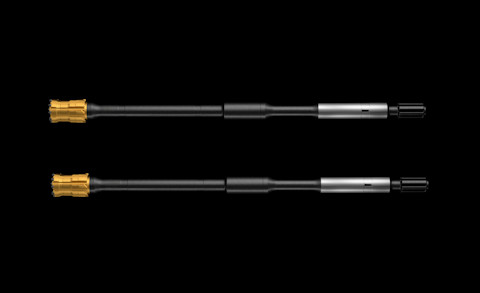 CT55 and CT67 curved thread systems are designed for surface mining and quarrying. These systems accommodate higher drilling power than the standard ones and feature a curved profile that reduces stress levels strategically while optimizing the product for fatigue strength.
Patented design

The unique, patented curved thread system provides a bigger X-section where needed and significantly reduces stress levels. This leads to fewer breakages and increased service life.

Productivity boost

The curved threads achieve a faster rate of penetration per meter and more meters per engine hour. These factors - along with problem-free drilling, easy coupling/uncoupling and good hole quality/hole straightness - provide increased productivity during drilling operations.

Advanced technology

The specially developed shoulder-driven system achieves an efficient energy transfer along with a stiff, strong connection. Easy coupling/uncoupling leads to minimal rattling.
Product specifications
Can't find the answer to your questions?
Are you looking for a spare part or component?
Looking for technical specifications?