Top hammer drill bits
Top center bit
Bit diameter

43 - 48

Thread

Sandvik Alpha™ 340, Sandvik Alpha™ 360

PowerCarbide®

Yes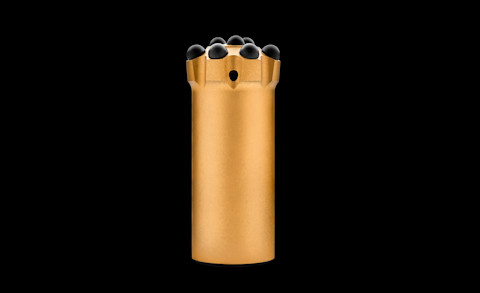 Sandvik Top Center Drill Bit has a revolutionary design and new carbide grades to provide up to 80% longer grinding intervals and 60% longer bit life compared to previous current designs.
Cost-effective design

The Top Center Bit is the ultimate heavy-duty bit. The elevated, angled front buttons enable more carbide in the gauge, resulting in longer grinding intervals and service life.

Improved safety

Safety levels are improved by longer grinding intervals. Fewer bit changes are also required.

Productive technology

The bit is equipped with PowerCarbide® grades SH70 and GC81 to further increase wear resistance
Product specifications
Learn more about Top Center Bit features

Front design

Includes more gauge buttons and great flushing capacity.
Can't find the answer to your questions?
Are you looking for a spare part or component?
Looking for technical specifications?