Top hammer drill bits
Speedy Bit
Bit diameter

43 - 51 mm

Thread

R32, R35, Sandvik Alpha™ 340, Sandvik Alpha™ 360

PowerCarbide®

Yes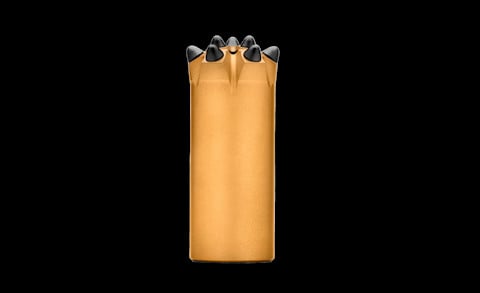 Speedy Bit is faster than any other drill bit in the industry, with a 10 - 30% improvement in drill speed. It saves up to one hour per day for each rig, while also delivering increased collaring accuracy and hole quality.
Optimized design

More aggressive buttons penetrate deeper with each strike and increase cutting size. The patented elevated front breaks the rock in two levels and improves the flushing flow, while large sludge grooves enable quick removal of large cuttings.

30% More efficiency

With an improvement in drill speed ranging from 10% to 30%, this bit can save one hour per day for each rig. Drilling faster reduces machine-related costs per meter advanced, including operators and maintenance. Out in the field, the bit has proven its performance in both mine development and tunneling.

Resilient technology

Innovative PowerCarbide® grades mean increased resilience against breakage, enabling more protrusion and sharper geometry - all thanks to an improved manufacturing process.
Product specifications
Can't find the answer to your questions?
Are you looking for a spare part or component?
Looking for technical specifications?