Tunneling jumbos
DT912iD
Coverage

125.00 m²

Hole length

Up to 5.88 m

Tramming type and distance

Hydrostatic transmission - Diesel engine - B6.7 (194 kW, Tier 4F, Stage V)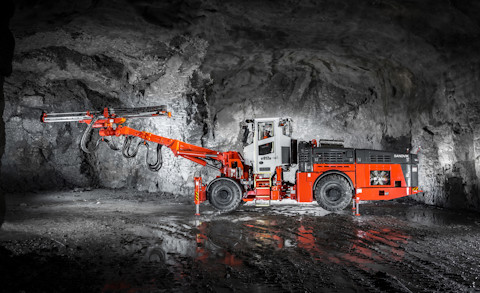 Sandvik DT912iD is a self-contained, diesel-hydraulic high-reach single boom jumbo. Designed for fast, accurate drifting and production drilling, it is ideal for multifaceted operations, especially in limestone applications.
Comfortable cabin

The vibration-insulated cabin has an ergonomic design that maximizes safety and visibility. Operators have a full view of the tramming and drilling area, while noise levels are kept under 73 dB at all times.

Completely self-contained unit

The jumbo is completely self-contained. The efficient onboard compressor and extra-large water tank enable DT912iD to operate independently from the tunnel or mine infrastructure.

Easy maintenance

All service points are accessible from ground level. Daily check points can be done without opening the covers. The covers are lightweight to ease the operations

Product specifications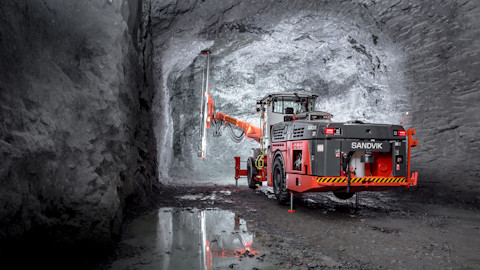 Learn more about DT912iD features

Rapid tramming

The powerful four-wheel-drive center articulated carrier ensures balanced and safe tramming in tight tunnels and narrow corners. Its Tier 4F engine offers productivity while lowering fuel consumption and emissions.

Boosted drilling power

The jumbo uses a high performance RD525 drifter, which is easy to service, and a fast and adaptive drilling control for changing rock conditions. The intelligent drilling control system features settings for nine hole types along with three alternative control methods.

Fast and accurate drifting

The jumbo's boom has full automatic parallelism and a large coverage area. The torque-based drilling control minimizes jamming risks and the boom compensation models increase accuracy (option).
Can't find the answer to your questions?
Are you looking for a spare part or component?
Looking for technical specifications?