Tunneling jumbos
DT820
Coverage

110.00 m²

Hole length

Up to 5.88 m

Tramming type and distance

Hydrodynamic transmission - Diesel engine - OM904LA (110 kW, Tier 3, Stage IIIA)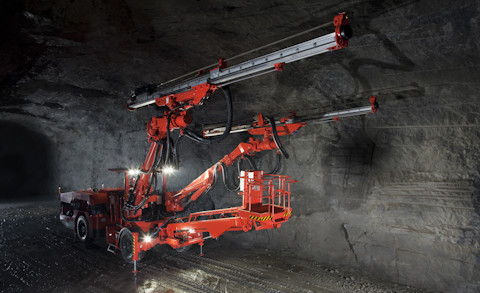 Sandvik DT820 is a two-boom jumbo engineered for fast, accurate tunneling and cavern excavation, allowing face drilling, bolt hole drilling and cross-cutting.
Easy to operate hydraulic control system

The hydraulic-controlled drilling system with its ergonomic panel is easy to operate and has automatic functions and different optional instrumentation levels, enabling productive, high-quality excavation.

Reliable RDX5 rock drill

RDX5 is a robust rock drill for heavy-duty rock drilling that delivers superior performance. It offers long service intervals and has excellent serviceability due to its modular construction and visual wear indicators. The rock drill also has an integrated carriage for ease of service.

Robust SB90 booms

The booms are designed for optimum-shaped coverage and full automatic parallelism. They can be used for mechanized tunneling, drifting, cross-cutting and bolt hole drilling.
Product specifications
Learn more about DT820 features

In-built diagnostics

The diagnostics enable continuous proactive monitoring of the tunneling jumbo's critical components and systems. Operators and maintenance personnel can detect potential issues or abnormalities early on, preventing equipment failures and minimizing downtime.

Improved safety

The FOPS canopy protects operators against falling objects while also acting as a barrier, minimizing the potential harm caused by accidents or rollovers.
Can't find the answer to your questions?
Are you looking for a spare part or component?
Looking for technical specifications?