Tunneling jumbos
DT821
Coverage

110.00 m²

Hole length

Up to 5.88 m

Tramming type and distance

Hydrodynamic transmission - Diesel engine - QSB4.5 (124 kW, Stage IIIA)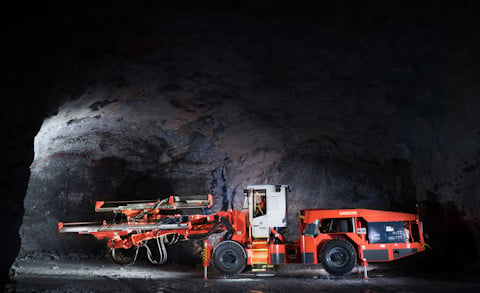 Sandvik DT821 is a two-boom jumbo designed for fast, accurate tunneling and cavern excavation drilling. It can be equipped with hydraulic or electronic drilling systems. Automatic functions and optional instrumentation enable productive operations.
Easy to operate

This tunneling jumbo uses a powerful four-wheel-drive carrier to ensure rapid tramming and good balance. Its universal booms offer greater coverage and full automatic parallelism, while optional utility booms can be added for bolting and utility works.

Strong feed

The strong feed allows the RD5 series rock drill to deliver optimal performance with a higher consumable life. Operators can use the jumbo for face, cross-cutting and bolt-hole drilling.

Water-mist flushing

The tunneling jumbo uses an 11 kW water booster pump for water-mist flushing, with a capacity of 200 l/min and a pressure of 10 - 15 bar.
Product specifications
Can't find the answer to your questions?
Are you looking for a spare part or component?
Looking for technical specifications?