Tunneling jumbos
DT621
Coverage

49.00 m²

Hole length

Up to 4.66 m

Tramming type and distance

Hydrodynamic transmission - Diesel engine - OM904LA (110 kW, Tier 3, Stage IIIA)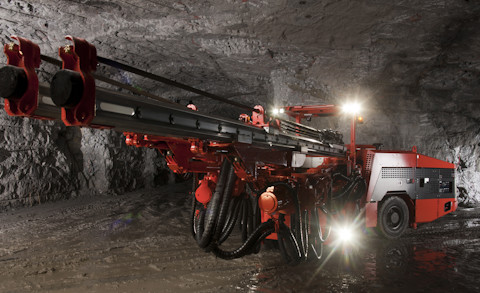 Sandvik DT621 is a compact two-boom jumbo for fast, accurate tunneling and cavern excavation. Equipped with RD520 rock drill, it supports face drilling, cross-cutting and bolt-hole drilling.
Easy maintenance

This tunneling jumbo uses its built-in diagnostics system to minimize maintenance time and ensure operators receive all the information they need, when they need it.

Reliable rock drill

The jumbo's RD520 rock drill provides smooth and efficient drilling, delivering optimal results in your operations.

Secure operator's environment

DT621 offers you a choice between a FOPS-certified canopy and an optional FOPS/ROPS cabin to protect your operator from hazardous situations.
Product specifications
Learn more about DT621 features

Optimally shaped booms

This tunneling jumbo has SB40 booms with stiff square shape profiles, offering full automatic parallelism and an ideally-shaped coverage area.

Well-balanced tramming

Operators can harness the powerful four-wheel-drive, steered carrier for a well-balanced, comfortable and controlled tramming experience.
Can't find the answer to your questions?
Are you looking for a spare part or component?
Looking for technical specifications?